To Solve Problem Of Borrowing, Nigerians Must Pay Tax – Adeosun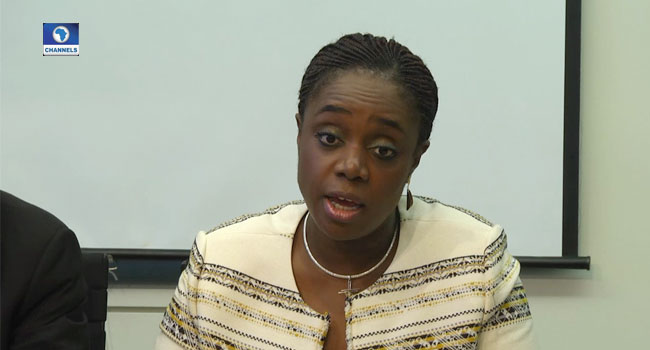 The Minister of Finance, Mrs Kemi Adeosun has said the nation needs to generate more revenue through the payment of tax by Nigerians in order to solve the problem of borrowing.
Speaking during a press conference at the 2017 World Bank/International Monetary Fund Annual Meetings in Washington DC, United States, on Sunday, she said although the government has a role to play in being more efficient, Nigerians also have a role to play by paying taxes properly.
"The solution to borrowing in Nigeria is that we must pay taxes. If we pay the taxes properly, there's no need to borrow. I am not suggesting that there isn't a responsibility on the part of the government to be more responsible and more efficient, we are really focusing on this, we are trying to find a way to cut costs.
"Fundamentally, we must invest. We don't have the power that we need, we don't have the roads yet. We are a work in progress. There's a lot of money to be spent to reposition this economy, and we need to generate much more by way of tax."
READ ALSO: Akwa Ibom To Benefit From World Bank Assisted Project
Kemi Adeosun said the nation needs to tolerate more debts by borrowing because Nigeria currently has one of the lowest debt-to-Gross Domestic Product figures in the world adding that the current administration has no plan to go into massive borrowing which it would not be able to sustain.
"Nigeria's debt-to-Gross Domestic Product ratio is one of the lowest actually. It is about 19 per cent. Most advanced countries have over 100 per cent. I am not saying we want to move to 100 per cent. But I'm saying we need to tolerate a little bit more debt in the short term to deliver roads, rail, and power.
"That, in itself, will generate economic activities and jobs, which will then generate revenue which will be used to pay back (the loans). It is a strategic decision that as a country we have to make."
Explaining more on why the country had to borrow, Adeosun said, the nation is confronted with the challenge of either reducing public services or to begin to generate revenue.
"If we think back at the problem that we faced, it will be very important to put this in context. Our principal source of revenue plummeted by up to 85 per cent. So, we had two choices: You either reduce public services massively, which would have meant massive job losses or you borrow in the short term until you can begin to generate revenue.
"As the All Progressives Congress (the ruling party), we felt laying off thousands of people was not the way to stimulate the economy. Also, when we came into office, about 27 state governments could not pay salaries. If we had allowed that situation to persist, we would have been in depression now.
"So, we took the view that as a government the best for us to do was to stimulate the demand and spend our way out of trouble. Let the state government pay salaries, make sure the Federal Government can pay salary and invest in capital projects to get people back to work. Once growth is restored, you can now begin to systematically reduce short dependence on borrowing and increase revenue."