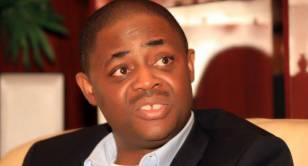 A former Director-General of the Jonathan Campaign Organisation, Mr Femi Fani-Kayode has said that the chances of the opposition's Peoples' Democratic Party of winning the 2019 Presidential election are only hinged on the South-West zone producing the National Chairman slot of the party.
He made this known on while speaking to Channels Television's Politics Today where he lamented that the zone is yet to produce the seat of the party.
The PDP chief said, "There was an agreement they would go to the South-West. Some were of the view that agreement no longer binds anybody, and others believe it should remain in the South-West. I believe strongly that it should remain in the South-West for a number of reasons.
"I believe at the end of the day it will if we are really serious about winning the election in 2019. I am happy to say that the Northern caucus of the party appears to share that view that it should be in the South-West simply because we have never had it before since the inception of the PDP.
"We have never had a National Chairman from the South-West and we need the numbers when it comes to an election but we will resolve this issue well before the convention. There will be a consensus and we will move forward together as one.
In the event that his zone fails the produce the party's next Chairman, Mr Fani-Kayode said his people would be left with no other option but to cross the bridge when they get there.
"One of the things that I learnt at the early stage in this game is to try to avoid a hypothetical question. You are asking me what the reaction of the South-West will be if we don't get the National Chairmanship. And I am saying to you that wisdom dictates we ought to.
"If we don't get it, then we will cross that bridge when we get there. But I sincerely hope we are not brought to that impasse because it will be very difficult to our people in the South-West which probably has the second largest number of voters in the country.
"In the Presidential election, it will be difficult to explain to them why we don't have the Presidency and why we would not have the National Chairmanship of the party and why we wouldn't have the Vice-Presidency and why we would be left with nothing," he added.