MASSOB Cautions Biafra Agitators Against Violence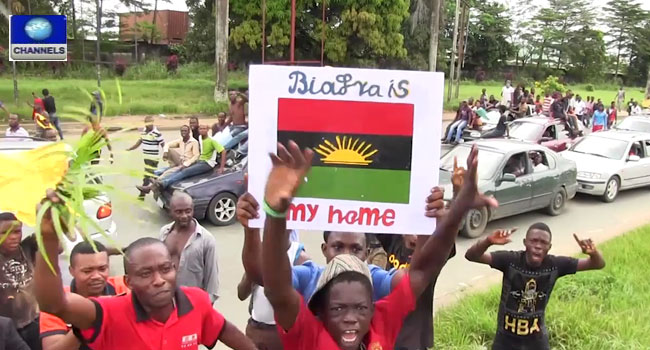 The Movement for the Actualisation of the Sovereign State of Biafra (MASSOB) has advised youths in Nigeria's South-east region to always resort to non-violent means in the course of their agitation.
This advice came from the Abia Central Zone MASSOB-BIM Zonal Information Director, Anselm Ogbonna, who insisted that nothing good on earth can be achieved through violence.
Ogbonna stated this on Wednesday during an event held at Umuezeoke Ngwu autonomous community in Bende Local Government Area of Abia State.
He, however, maintained that Biafra, as it stands, is a divine agenda which would be actualised at the appropriate time.
He said, "We will not separate violently because we will need Nigeria and Nigeria will need us. So even if we are going, the relationship will remain."
"I am using this opportunity to advise youths to always use non-violent agitation in their pursuit of Biafra struggle because nothing good on earth is achieved through violence," he added.
The director also reminded the youths that Dr Ralph Uwazuruike, the chief crusader of Biafra struggle, resurrected the campaign in September 1999 through non-violence and also vowed to actualise Biafra non-violently.