DSS Produces Dasuki In Court For Metuh's Trial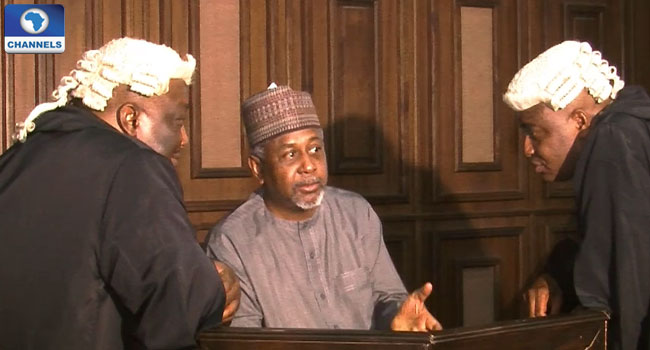 The Department of State Services (DSS) has finally produced the detained former National Security Adviser, Sambo Dasuki, in court.
This is in compliance with an order of the Federal High Court in Abuja, that the ex-NSA should appear as a witness in the ongoing trial of a former Publicity Secretary of the Peoples Democratic Party (PDP), Mr Olisa Metuh.
Dasuki was produced by DSS operatives ahead of the Wednesday's proceedings.
He, is however yet to take the stand and this will be dependent on whether the court rules in favour of or against his motion seeking for a stay of proceedings pending his appeal before the appellate court.
The Federal Government is however opposed to the application for stay. On the grounds that the success or failure of the application lies on the interpretation of Section 305 of the administration of criminal justice act. The section says two conditions must be satisfy for the application to scale. A question bothering on the computer sitting must have arisen before the case can be referred to the appeal court and that there must be a refrences to a party to the case. But the application is by someone who is not a party to the suit.
Meanwhile, counsel to President Goodluck Jonathan has moved an  application seeking for the court to set aside the order of subpoena.
According to Mr Mike Ozohkome, the application  is predicated on eight grounds and two additional grounds for the  alternative order he is seeking.
According to him the order is basically to set aside the order of subpoena for President Goodluck Jonathan.
He adds "We are saying the evidence sought to be extracted from him will amount to invasion of his personal right to privacy and family life provided by section 37 of the 1999 constitution and that notwithstanding the provision of 175 which makes him a competent witness because he is no longer a sitting President.
"Section 183 of the same act is applicable here which provides that no one is bound to answer any question of it will open such a person to any criminal charge, or forfeiture against him or his wife.
"We have shown in our affidavit the series of attempt and embarrassment made on him and his wife since he left office by freezing his wife's accounts in many cases across Nigeria.
"The subpoena is vague and applied for on grounds we consider to be frivolous."