Nigeria's National Library: Intellectual Sanctuary In Ruins
Around the world, libraries are intellectual sanctuaries where knowledge is found and ideas are exchanged. They are symbols of societal organisation and archival reservoirs of historical and institutional memory. Channels Television looks into the neglected state of the national library of Nigeria Headquarters.
Abandoned Edifice
Tasked with inculcating a national reading culture, the building of the headquarters of the National Library of Nigeria stands as a monument of misplaced priorities and an abandoned edifice.
Three years ago, the building of the national library of Nigeria was marked by the Federal Capital Development Authority as an inhabitable building not fit for human habitation due to its state of rust and decay. However, till date, the building remains untouched but inhabited daily by demoralised library staff.
Decaying Staff Restrooms
Sade Adepoju, one of the disenchanted staff, who was ready to risk her job to expose the rot in the national library headquarters. She guides Channels Television through the dilapidated building showing the ramshackle staff restroom untended to in its poor and rotten state with leaking pipes and damaged taps.
Rotting Library Books
Adepoju revealed further the devastating state of the actual library. Not only is the national library of Nigeria rotten, the books, gazettes and official documents in the library are gradually rotting away. The essential documents, according to Adepoju do not have enough space to stay on the shelf and the library is not conducive for keeping the documents safe because of the neglected state of the library.
"Here we have Gazettes. You can find books dated back to 1800. Government's Gazette, official gazettes are kept here. Pictures dating from 50, 70 years ago are kept here.
"We don't have adequate space to keep them. They are not meant to be stacked together (roughly) on the shelf like this. They are meant to be in a conducive air-conditioned room. But here they are," she stressed.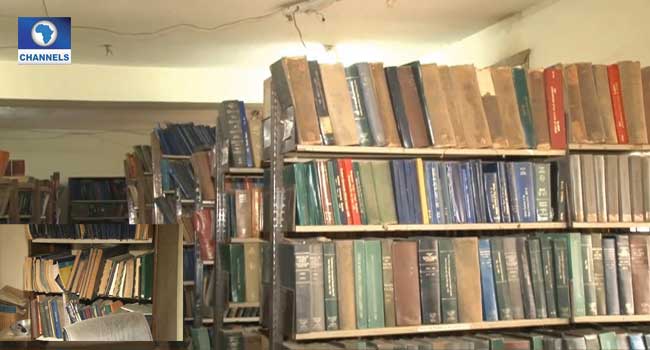 Leaking, Algae Covered Offices
In the national library headquarters, not only reading materials are under threat. In the corner of one of the offices where the civil servants' work is a hole where an empty and used bottle of beverage is welded into the wall to block water flowing into the office.
Close to the same location inside the office is a wall completely covered in green algae bacteria which is injurious to human health.
A civil servant, Mr Abraham who is an accountant with the national library of Nigeria, works right inside this decaying office. He expressed knowledge on how much money has passed through the institution over the years and knows all too well what can happen when funds are used to enrich political appointees who come and go, leaving behind civil servants to work in squalor and decaying offices.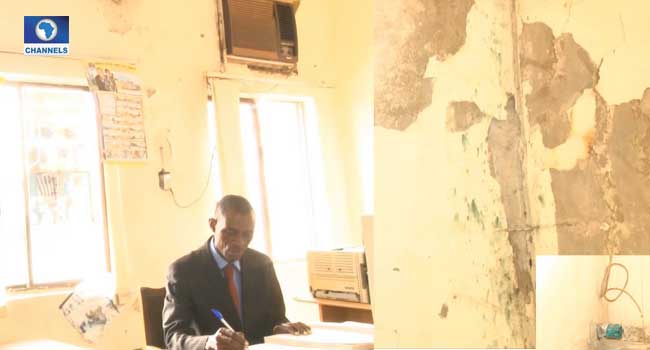 Senior Accountant, Imbachi Henry is terribly affected by the poor state of the working environment in the national library of Nigeria. The poor state of his office is of gross effect on his health but he helplessly reports to the office daily despite its damaging consequences on his health. It has become devastating as he depends on medication to stay alive while he works.
"These are the drugs I'm taking. They are all antibiotic. I have even taken some before these ones but these are the ones I am taking presently. For two months now, I have been coughing. What is the cause of this, it is this office. I have been in this office for three years, nobody is coming to our rescue, nobody is trying to relocate us," he lamented.
Respiratory Doctor, Kingsley Osagie said Imbachi's health might not get better. He warned that if the civil servant is not relocated from the infected office, it might lead to a more complicated health condition.
"Continuous exposure to vectors. This includes what we call plural infusion and up to cancer of that membrane. My advice to him is to first things first, remove him from that environment," Osagie said.
Searching For A Solution 
In seeking a solution to this devastating state of the national library of Nigeria which is in dire need of attention, Channels Television speaks with the Minister of State for Education, Mr Anthony Anwukah.
In response, the Minister said the situation is currently being investigated and a solution will be provided soon.
"Well, right now, the whole thing is on my table. We are working on the national library issue, particularly the building and to make sure they get back to real functional performance. We are discussing and very soon, we will arrive at something worthwhile," Anwukah said.
Attempt to follow up with the Minister concerning the specificity of the media plans were, however, denied.
Will N78billion Save The Day?
The proposed new library is supposed to be the solution to the decaying national library of Nigeria Headquarters.
Channels Television exclusively obtained the contract details which reveal that the new national library of Nigeria headquarters building was initially awarded to Reynolds Construction Company (RCC) through a consultant, Odeleye International associates at an original cost of N8.5billion with an initial completion timeframe of 21 months from the date of first mobilization to site on April 29, 2016.
From N8.5bllion, the contract was upwardly revised to N17billion before being revised up again to N38.7billion. It was finally revised upward again to a staggering N78billion.
It is nearly 12 years later, this building stands hollow with 45% of the project completed.
In every Nigerian sector, the question of whether facilities would give Nigerians a chance to actualise their boundless potentials arises. Some of these sectors are in rot, ridden with damage and ruins as Channels Television has discovered in the Education Sector. The staff at the national library of Nigeria headquarters agonisingly cry for a solution and quick intervention.