We Are Ready To Contain Niger Delta Avengers' Threats – Navy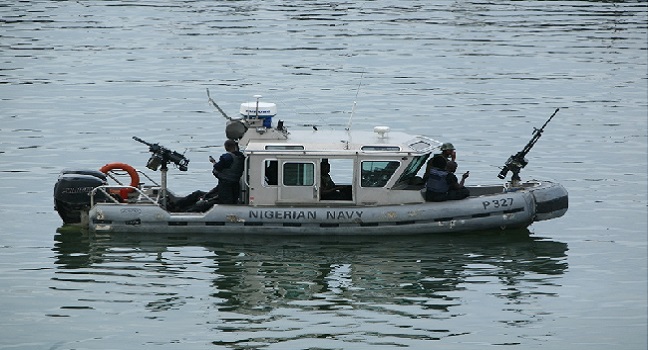 The Chief of the Naval Staff Vice Admiral Ibok-Ete Ibas says the Nigerian Navy has the responsibility and capacity to contain the threat made by the Niger Delta Avengers as well as other criminal acts in the waterways.
Ibas said this during the annual inspection exercise at the NNS Delta Command in Warri, Logistics Headquarters command in Oghara and the Engineering College Sapele, Delta State.
Responding to questions from journalists, after addressing his officers and ratings, Chief of the Naval Staff speaks on the strategy being explored by the Navy to address criminalities on the nation's waterways.
READ ALSO: We Are Ready To Engage Niger Delta Avengers – FG
He said the fresh threat by the Niger Delta Avengers should not be taken with levity, hence the readiness of the Nigerian Navy. He said the navy will not relent in ensuring the safety of national assets in the region.
"Threat by Niger Delta avengers, sea robbers, pirates and kidnappers are threats that the armed forces of Nigeria have a responsibility towards containing.
"We do not wait until a threat comes from a particular group before we act and what we do is to protect lives and properties against any threat most especially the ones against the nation's assets recall that in the height of vandalism and sea robbery, the navy had to deploy the strategy of chokepoints to reduce the movement of most of these criminals," he said.