President Buhari Proposes N8.612tn Budget For 2018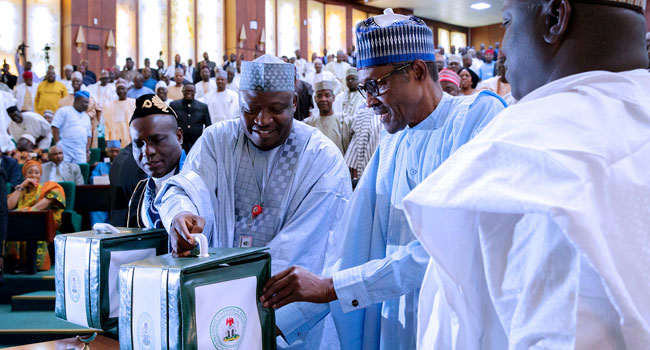 President Muhammadu Buhari has proposed a budget of N8.612 trillion for the year 2018.
The President gave the breakdown of the 2018 Appropriation Bill, while addressing a joint session of the National Assembly on Tuesday.
President Buhari told the lawmakers that the proposal is based on an oil benchmark of $45 per barrel, an oil production rate of 2.3 million barrels per day, an exchange rate of 3.5 percent, inflation rate of 12.4 percent and a real GDP growth of 3.5 percent.
According to the President, out of the N8.612 trillion, N3.494 trillion has been proposed for recurrent expenditure, and N2.428 trillion for capital expenditure – excluding the capital component of statutory transfers.
The Buhari administration plans to use N2.014 trillion for debt service, N46 billion for statutory transfers and N220 billion as sinking fund to retire maturing bonds and pay local contractors.
Total capital expenditure, including the capital component of statutory transfer, is N2.652 trillion.
"In keeping with our policy, 30.8% of N2.652tn of aggregate expenditure, inclusive of capital statutory transfers has been allocated to the capital projects.
We expect our fiscal operations to result in a deficit of N2.005tn or 1.77% of GDP," the President said.
According to him, the reduction in the budget deficit for 2018, compared to 2017, is in line with his administrtion's plan under the Economic Recovery and Growth Plan to progressively reduce the deficit and borrowings.
"We plan to finance the deficit partly by new borrowings, estimated at N1.699tn. Fifty percent of this borrowing will be sourced externally, while the balanced will be source domestically," he said.
"The balance of the deficit of N306bn is to be financed from proceeds of privatisation of some non-oil assets by the Bureau of Public Enterprises."
Capital Allocations
In terms of key capital allocations, the Ministry of Power, Works, and Housing got the lion's share.
Minister of Power, Works, and Housing – N555.88 billion
Ministry of Transport – N263.1 billion
Social Intervention Programmes – N150 billion
Ministry of Defence – N144 billion
Ministry of Agriculture and Rural Development – N118.98 billion
Ministry of Water Resources – N95.11 billion
Ministry of Industry, Trade and Investment – N82.92 billion
Ministry of Interior – N63.26 billion
Ministry of Education – N61.73 billion
Universal Basis Education Commission – N109.06 billion
Ministry of Health – N71.11 billion
Federal Capitial Territory – N40 billion
Zonal Intervention Project – N100 billion
North-East Intervention Programme – N45 billion
Niger Delta Ministry – N53.8 billion
Niger Delta Development Commission – N71.2 billion
Debt profile
There has been a lot of concern about the country's debt profile and with the amount proposed for debt service N2.014 trillion, the President offered some explanations about what his government is doing about the issue.
One of the steps taken so far is to closely monitor the debt service to revenue ratio, according to him.
He said, "We shall address this ratio through our non-oil revenue generation drive and restructuring of the existing debt portfolio.
"Presently, domestic debt accounts for about 79 percent of the total debt. Our medium-term strategy is to reduce proportion to 60 percent by the end of 2019 and increase external debt to 40 percent.
"It is noteworthy that re-balancing our debt portfolio would enhance private sector access to domestic credit. In addition, annual debt service costs will reduce as external debt are serviced at lower rates and retained over a longer period than domestic debt."