We Knew He Was Going To Leave, El-Rufai Reacts To Atiku's APC Exit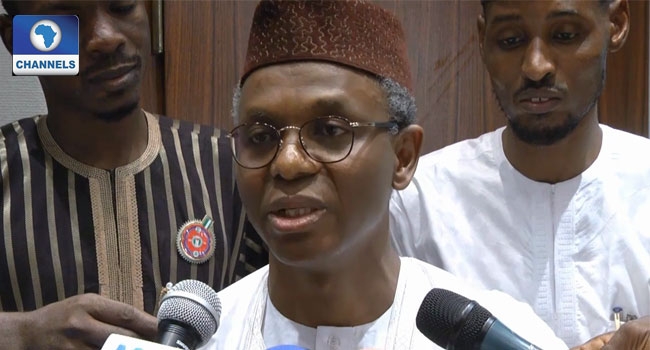 Kaduna State Governor, Nasir El-Rufai has reacted to the exit of Atiku Abubakar from the All Progressives Congress (APC) saying it is not a surprising development and they knew Atiku was going to leave.
El-rufai said the party knew about Atiku's exit before now, adding that Atiku is a serial defector and may come back to the APC if he thinks there is hope for him to get the ticket to contest for the 2019 elections.
Atiku, who is former vice president of President Olusegun Obasanjo on Friday announced that he has resigned from the APC. In his resignation letter, he accused the APC of failing to spearhead the rebirth of a new Nigeria as it promised.
El-rufai speaking on Friday in Abuja said, "I have heard about what the former Vice President said about leaving the APC. We knew he was going to leave in December, he has left in November which is good. The earlier he leaves for where he belongs, the better. He has changed political parties a few times, there is nothing surprising. Before the 2019 elections, if situations change and he thinks that he can get the ticket in APC, he will come back. That is what he has done a few times.''
READ ALSO: Return To PDP, Fani-Kayode, Murray-Bruce Tell Atiku
The Kaduna State Governor said the APC is an equal platform for all and Atiku's action simply left as a result of his intention to always contest. He said nobody made Atiku leave the APC explaining that the memo he wrote in 2016 to President Muhammadu Buhari was not targeted at Atiku only but all aggrieved members who were not displeased by the memo but remained in APC.
"No one has driven him out of the party. The APC is an equal opportunity platform for everyone. In his statement of leaving APC, he made reference to the memo I wrote Mr President in September 2016, where I was calling on the President to reach out to party leaders that feel aggrieved and I mentioned him and many others. But all the others are still in the APC because they believe in the direction of the party, they believe that we have come to save the country from a very bad situation."
El-rufai finally described Atiku as a serial contester and aspirant wishing him luck in his political aspirations.