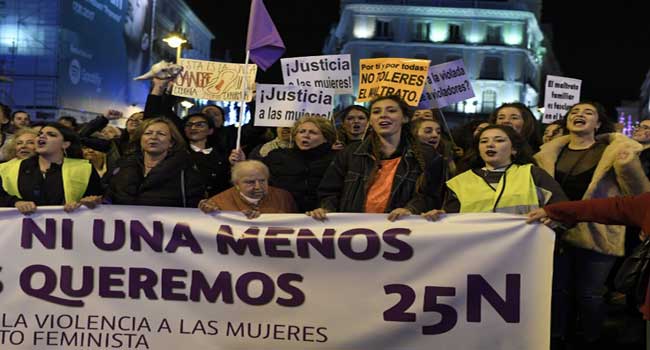 Thousands took to the streets of Madrid Saturday to protest violence against women, just as Spain reels from a grisly trial over an alleged gang rape.
Shouting "We're not scared," they marched in the Spanish capital on the International Day for the Elimination of Violence against Women.
At least 45 women have been killed in Spain so far this year by their partner or ex-partner, according to the government's gender violence department.
Protesters held signs reading "how many more must die," shouting "they're not deaths, they're murders."
"I want to show how much I reject the situation in this country," said Jorge Aranda, 40, who works in a health centre, pointing to the 45 deaths this year alone.
"This is unacceptable."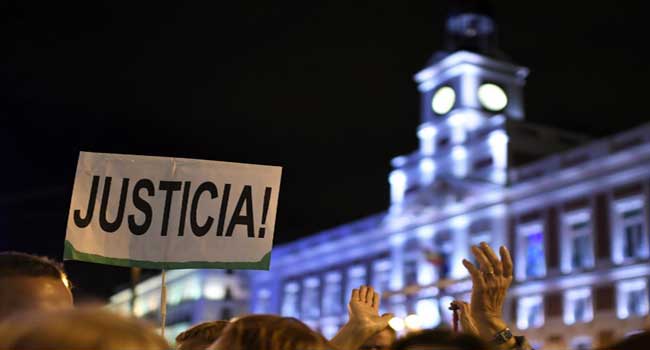 The protest comes as powerful men in the United States and beyond have fallen from grace following allegations of sexual misconduct, starting with movie mogul Harvey Weinstein.
It also coincides with the trial in Spain of five men accused of gang raping a woman, then 18, in July 2016 during the famed Pamplona bull-running festival, a case that has shocked the country.
The men, aged 27 to 29, allegedly filmed the rape and then bragged about it on a WhatsApp messaging group where they referred to themselves as "La Manada", or "The Pack" in English.
Public prosecutors have asked that the five be sentenced to 22 years in prison each. The men say the woman consented to the sexual encounter but have admitted to stealing her mobile phone.
The judge's decision to admit as evidence details about the victim's private life gathered by a private detective — including her presence at a party a few days after the alleged rape — has added to anger over the case.
"In Fuenlabrada, sister, your pack supports you," read one large banner in the protest. Fuenlabrada is a town in the Madrid suburbs.
Another read: "You're not alone, I believe you."
AFP