Sobo Criticises AGF Over Alleged Role In Maina's Saga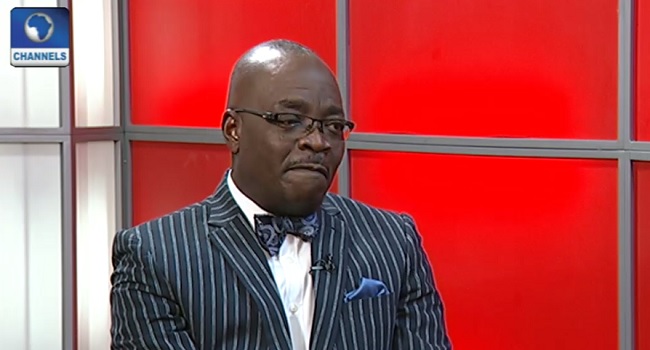 A legal practitioner, Mr Muyiwa Sobo has expressed his disappointment in the alleged role played by the Attorney General of the Federation, Mr Abubakar Malami in the controversy surrounding the former Chairman of the Presidential Task Force on Pension Reforms, Abdulrasheed Maina.
While appearing before the House of Representatives ad-hoc committee set up to investigate the case on Thursday, Malami who also doubles as the Minister of Justice denied having any involvement in the reinstatement.
But speaking on Channels Television's Sunrise Daily, Mr. Moyo argued that the AGF by virtue of his position is the chief watchdog of the country and as such should not have denied having knowledge of the issuance of Maina's reinstatement letter.
While praising the lower chamber of the National Assembly for the public hearing, he, however, noted that Malami's position shows evidence of incompetence and corruption.
"It is clear that there is impunity going on, there is corruption going on, there is incompetence. There is a serious mix if you mix those three together.
"How do you imagine the Attorney General of the Federation coming forward and saying a letter did not come from his office on something as serious as bringing a fugitive back into the service.
"How dare he? I think it is disrespectful to us as citizens. This is an insult to us and any Nigerian watching that and is not upset, I don't know what they are looking at," he said.
He further queried the Minister of Interior, Mr Abdulrahman Dambazau for keeping quiet over the fact that Maina was until his disengagement from service, a Director under the Interior Ministry.
"What is it between the AG and Maina? What is going on, and Dambazau keeping quiet. There is something going on that they are not revealing to us.
"Of course, he (Dambazau) has to speak up, why keep quiet? The AGF went to the hearing and said this thing did not emanate from my office. Who is watching who?" he questioned.
Maina had been declared wanted by the Economic and Financial Crimes Commission (EFCC) for an alleged N2bn pensions biometric scam in November 2015, a 24-count bothering on procurement fraud and obtaining money under false pretense.
He reportedly disappeared from public glare only to resurface in October 2017, to take charge as an Acting Director in the Ministry of Interior.
Following the controversy, President Muhammadu Buhari dismissed the former pension's boss from the Federal Civil Service and demanded a full report of the circumstances of his recall on October 23.