Buhari Vows To Reduce Illegal Migration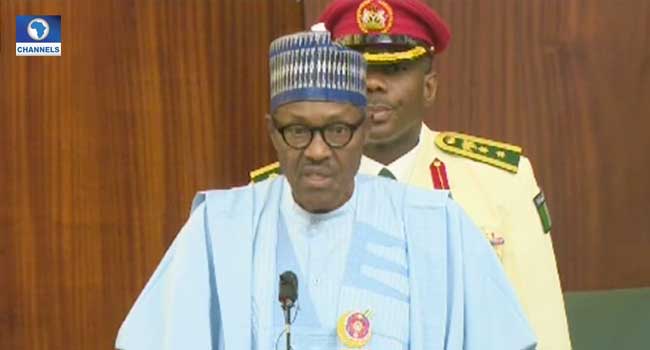 President Muhammadu Buhari has vowed to reduce the number of Nigerians heading for Europe illegally and stem the tide of illegal migration by Nigerians.
The President said he will put a stop to the action of Nigerians leaving the country through the Sahara Desert and the Mediterranean Sea by providing basic social amenities such as education, healthcare, and food security at home.
Buhari, according to a statement by his Senior Special Assistant on Media and Publicity, Garba Shehu, said this in an interactive session with members of the Nigerian Community in Cote D' Ivoire, on the margins of the 5th AU-EU Summit.
READ ALSO: We Will Bring All Nigerians Stranded In Libya Back Home – Buhari
"For people to cross the Sahara desert and Mediterranean through shanty boats… we will try and keep them at home. But anybody who died in the desert and Mediterranean without documents; to prove that he is a Nigerian, there is absolutely nothing we can do," he said.
Reacting to a viral video on the sale of Africans in Libya, President Buhari said it is appalling that "some Nigerians (in the footage) were being sold like goats for few dollars in Libya.'
"After 43 years of Gadhafi, why are they recruiting so many people from the Sahel including Nigerians? All they learned was how to shoot and kill. They didn't learn to be electricians, plumbers or any other trade,'' he said.
President Buhari speaking further to the Nigerians in the Diaspora said that there is ''good news from home'' in the area of security, economy, and anti-corruption.
"We are not doing too badly in trying to secure the country, improve the economy and deal with corruption. We are doing our best at all levels including security. It is absolute madness for people to blow others up in markets, churches, and mosques. No religion advocates violence. Justice is the basic thing all religions demand and you can't go wrong if you do it,'' he said.
On food security, the President said that his vision of repositioning Nigeria as a food-secure nation is on course as the country is on the verge of attaining food security.
He attributed the development to positive agricultural reform programmes and bumper harvest occasioned by good weather.