Hamas Accuses Palestinian Authority Of Blocking Reconciliation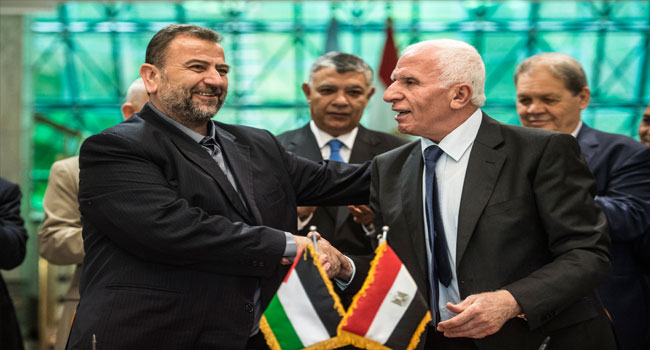 The Islamist movement Hamas on Saturday accused the Palestinian Authority of blocking a landmark unity deal and called for a lifting of its sanctions on the Gaza Strip.
"We demand that the government of (prime minister) Rami Hamdallah assume its responsibilities in full and lift the unjust sanctions imposed on our people in Gaza," said Hamas, the faction which controls the coastal enclave.
The Gaza Strip has been blockaded by Israel for a decade, while its only other land border — with Egypt — has also been largely sealed in recent years.
In addition, Palestinian Authority (PA) president Mahmud Abbas has imposed a string of punitive measures against Gaza, where basic infrastructure for its two million residents is severely lacking.
Residents receive only a few hours of electricity per day, and UN officials have said the densely-populated and impoverished territory is becoming rapidly unliveable.
The PA, dominated by Fatah, was scheduled to take over control of Gaza by December 1 under a landmark unity deal signed in October, but the deadline passed with the two factions accusing each other of not respecting the accord.
In its statement Saturday, Hamas charged that the Palestinian government based in the West Bank had "made no effort to lift the sanctions and ease the sufferings of the people of Gaza".
The PA, in a statement of its own, dismissed the charges as "irresponsible".
Abbas's PA, seeking to squeeze Hamas, has in recent months reduced the amount it pays Israel for electricity to be piped to Gaza.
The Hamas statement referred to the electricity shortages and the fate of tens of thousands of civil servants hired by Hamas, which seized the enclave in 2007 in a near civil war with Fatah.
On Wednesday, PA employees were prevented from returning to work at a number of ministries in Gaza, and the handover of power in Gaza has been delayed by at least 10 days.
It is now expected to take place on December 10, following talks later Saturday in Cairo between Hamas and Fatah, sources closes to both factions have said.
AFP