Another 164 Nigerians Return From Libya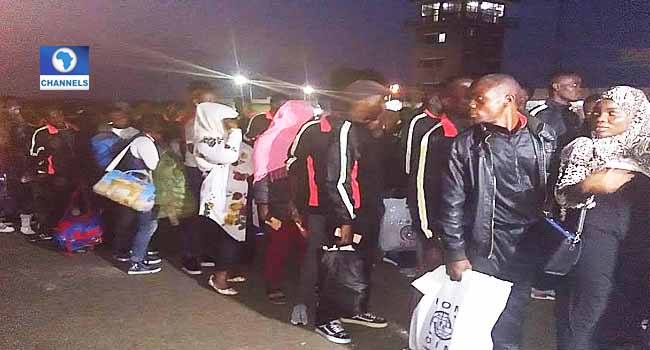 Another set of 164 Nigerian returnees from Libya have been brought back into the country by the International Organisation for Migration (IOM) in the early hours Friday.
This is the third set of Nigerians returning from the North African country, following the arrival of 144 and 257 persons on Tuesday and Wednesday respectively.
READ ALSO: Another 257 Nigerians Return From Libya
The returnees were received at the Cargo Wing of the Murtala Muhammad International Airport, Lagos by the Southwest Zonal Coordinator of the National Emergency Management Agency (NEMA), Mr Suleiman Yakubu.
They comprise 155 male adults, 2 male children, 5 female adults, 1 female child and a female infant.
The returnees arrived via BURAQ airline 737 with registration number 5A-DMG at about 12:34 am at the cargo wing of the airport.
Mr Yakubu, who represented the Director General of the NEMA, thanked the IOM and the European Union for their humanitarianism on behalf of the Federal Government.
He also appealed to the returnees to learn from the bitter lessons they got in the course of their unpalatable sojourn and make better use of opportunities abound in Nigeria.
"There's nowhere like home and Nigeria is a peculiar nation that God has endowed with bountiful resources that everyone can harness and prosper," Yakubu said.
He further implored the returnees to make use of the available facilities which Federal and state governments are providing for self-empowerment.
One of the returnees Emmanuel Kessh from Delta State said he dropped out of university to embark on the ill-fated journey.
Having left Nigeria in August 2017, Kessh thanked the government and other key players who facilitated their repatriation from the North African country.
"I learned that President Muhammadu Buhari has directed the evacuation of all Nigerians from Libya. I thank the President for this because the boys (Nigerians) in Libya are really suffering and lack human rights as they are being treated as animal.
"The President's directive is very important because of the coming election in Libya. Many Nigerians might be forced to be involved in the process as tools of the Libyans which can cause further disaffections against the stranded people amongst the various groups in Libya.
"I don't wish to hear that Nigerians are being used as human shield in any clash between the various groups in case of post-election violence over there.
"My decision is never to aspire to travel outside Nigeria; this is a bitter experience that I will not pray for anyone else to suffer in life," he narrated.