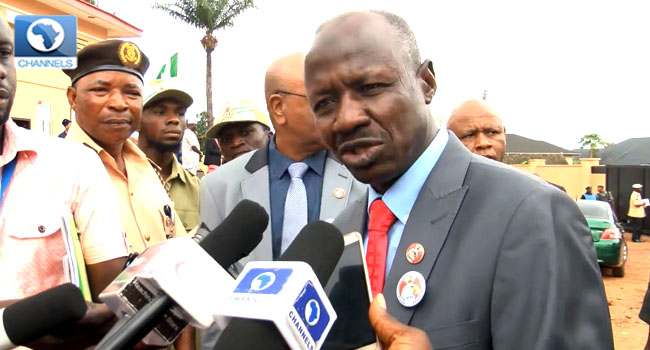 Acting Chairman of the Economic and Financial Crimes Commission (EFCC), Mr Ibrahim Magu, has called for improved collaboration between the agency and the Federal Airports Authority of Nigeria (FAAN).
Magu, who spoke on Thursday in Abuja during an anti-corruption sensitisation programme organised for the staff of FAAN by the EFCC, was hopeful that such cooperation would help to check the free movement of criminals and brazen laundering of illicit funds through the nation's airports.
According to him, the education and sensitisation campaign was designed for employees of public and private institutions, to encourage them to have a buy-in into the anti-graft mandate of the EFCC.
"Our presence here today is to bring the message of anti-corruption to the management and staff of the Federal Airports Authority of Nigeria, FAAN and other aviation workers", he said in a statement signed by the EFCC spokesman, Mr Wilson Uwujaren.
Commending FAAN for inaugurating its Anti-Corruption and Transparency Unit (ACTU), the EFCC boss said: "the workshop was structured in line with Section 6 of the EFCC Act, which requires the commission to, in addition to its enforcement responsibilities, take measures to prevent the commission of economic and financial crimes".
He said it was cheaper and better to prevent corruption than to fight it and called on participants to embrace the values of integrity and transparency in the discharge of their duties.
Magu, however, warned them that the anti-graft agency would not spare anyone involved in corrupt practices and asked all stakeholders to familiarise themselves with the EFCC Act and other relevant laws guiding their duties.
"The Commission is determined more than ever before to rid all government Ministries, Departments and Agencies of all forms of fraudulent activities," he said.
Earlier in his opening remarks, the Managing Director, FAAN, Mr Saleh Dunoma, commended the EFCC for driving the sensitisation programme towards the aviation sector, and also solicited for more support, especially in the crime unit.
He said: "The aviation sector is the right choice in campaigning for the fight against corruption, the EFCC support is what we need; I want you to consider us in the crime unit.
"We interface with international passengers and by liaising with the EFCC, we can sensitise the airport community so that we can rid Nigeria of corruption."
The event, which held at the Pilot Lounge of the Nnamdi Azikiwe International Airport, featured participants from various agencies, including the Nigerian Customs Service (NCS), Nigeria Security and Civil Defence Corps (NSCDC), and the Federal Road Safety Corps (FRSC) among others.