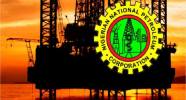 The Nigerian National Petroleum Corporation (NNPC) has on Saturday insisted that it followed due process in contracts tendering.
The group in a series of tweets through its official Twitter handle, @NNPCgroup, denied breaching any contracting process including the Ajaokuta-Kaduna-Kano Gas (AKK) N827billion Pipeline contract.
The Minister of State for Petroleum Resources, Ibe Kachikwu had earlier in October wrote to President Muhammadu Buhari on August 30, 2017, in a leaked media alleging insubordination by the Group Managing Director of the NNPC, Maikanti Baru, accusing him of not following due process in the tendering for the contract.
READ ALSO: There Is No $25bn NNPC Contract Anywhere, Says Presidency
Describing alleged breach in the contract tendering process as misleading, the NNPC management through the series of Tweets also denied the contract was already approved before last week Wednesday.
"The attention of NNPC group has been drawn to an online report wherein it was stated that the Ajaokuta-Kaduna-Kano Gas (AKK) Pipeline contract was presented before the Federal Executive Council (FEC) for approval "to correct the infringement of due process by the initial approval given by the President".
"It was also stated that the contract was resubmitted for approval "to correct the alleged irregularity pointed out in a leaked memo to the President."
The NNPC said these allegations are misrepresentations aimed at misleading Nigerians. The group said tendering process requires that all contracts are presented for approval by the NNPC Tenders Board (NTB). Where the contract is above NTB's threshold of $20million, it endorses it to FEC.
"The AKK tender followed exactly this process. It is important for the general public to note that no contracting process was breached in the AKK nor any contracts handled by NNPC group," NNPC said.
READ ALSO: NNPC GMD Breaks Silence On Kachikwu's Letter
NNPC also said the AKK tender which was considered and endorsed by NTB on July 12, 2017, for consideration by the Federal Executive Council (FEC), was never approved by Mr President nor considered by FEC prior to December 13, 2017.
Responding further to an apparent allegation by Kachikwu at the FEC meeting held in Abuja on Wednesday, NNPC said it is, therefore, most unfortunate the continued claim that there was an approval for the contract and that it had to be represented to the FEC again to correct any infringement.
NNPC, therefore, insisted that there was no irregularity in the process of tendering contracts and due process was followed.