10 Dead In Bus Accident Along Lagos-Ibadan Expressway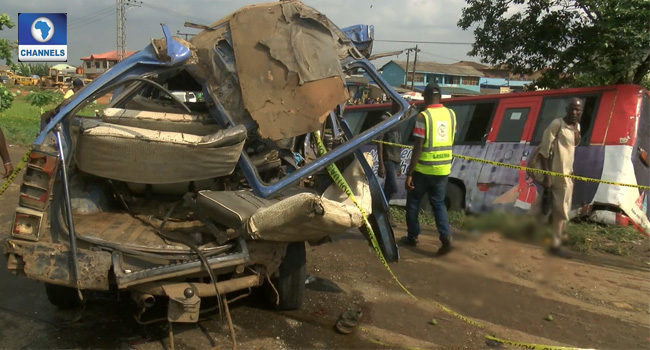 Ten passengers were on Tuesday killed while travelling in a commercial bus from Abeokuta to Ibadan the Oyo State capital.
The accident occurred along the Lagos/ Ibadan expressway when the bus they were traveling in collided with a truck.
Mr Babatunde Akinbiyi, the Public Relations Officer (PRO), Traffic Compliance and Enforcement Corps (TRACE) in Ogun State, confirmed the tragic incident explaining that it occurred around 8.00 p.m. on Tuesday, adding that speeding and negligence on the part of the truck driver caused the accident.
READ ALSO: Lagos Govt Closes Section Of Festac Link Bridge
The truck driver he said, only sustained injury in the accident.
"The truck with registration number BDG 7I4 XE was coming from Ibadan inward Abeokuta, while the Toyota Litace marked EKY I85 XH was traveling to Ibadan outward Abeokuta.
"Due to speed and negligence on the part of the truck driver, it had head on collision with the bus, leading to the accident that claimed the lives of all the passengers in the bus.
"Eleven people were involved in the crash; two females and eight males died in the accident, while driver of the truck was the only one injured," he said.
The TRACE spokesman said that the corpses of the victims had been deposited at the Adeoyo Hospital Morgue in Ibadan, while the injured are receiving treatment in the same hospital.