Fayose Asks Buhari To Resign As Fuel Scarcity Persists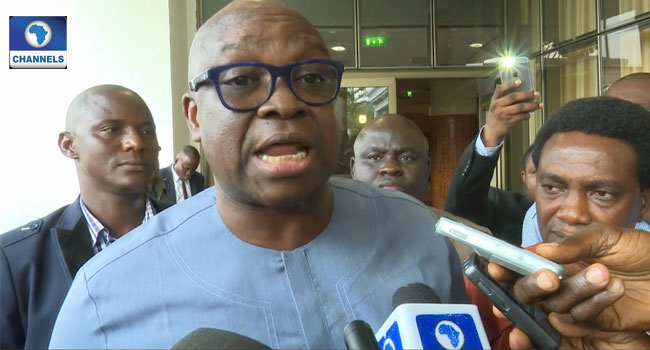 Ekiti State Governor, Mr Ayodele Fayose, has again asked President Muhammadu Buhari to resign as the Minister of Petroleum over what he described as his "nonchalant attitude towards ending the fuel scarcity being experienced across the country."
The governor also alleged that the All Progressives Congress (APC) – led government was intentionally punishing Nigerians with fuel scarcity to achieve its planned increment of petrol pump price from N145 to not less than N185 per litre.
He made this known in a statement signed by his Special Assistant on Public Communications and New Media, Lere Olayinka, on Friday.
"It is sad that this Buhari's APC government had to choose this Christmas and New Year period to ground Nigeria with the fuel scarcity that it deliberately orchestrated."
"Like I said a few days ago, what the federal government is doing is to create scarcity so that Nigerians will be willing to buy at any price, provided the product is made available.
"It was to achieve this planned increment of petrol pump price that
they restricted supply of petrol to NNPC alone," he stated.
Governor Fayose, however, sympathised with Nigerians stating that the only way out of the hardship is to vote the APC government out during the 2019 elections and vote in a new leadership.