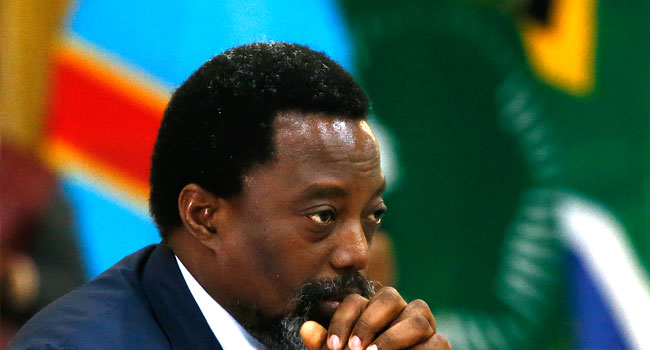 A residence of President Joseph Kabila was burned down early Monday in a suspected militia attack that killed a police officer in the Democratic Republic of Congo, witnesses said.
So-called Mai-Mai armed groups were probably trying to steal goods from the building in Musienene, North Kivu province in the country's troubled east, according to a military official.
"The residence of the head of state in Musienene has been targeted in an attack from 03:00 (01:00 GMT) and then burned by the Mai-Mai," the official told AFP on condition of anonymity.
"The attackers ransacked everything before setting the house and some vehicles on fire."
Kabila spends most of his time in the capital, Kinshasa, but is believed to have several homes across the country, including a farm.
Musienene regularly sees protests against Kabila's extended time in power and demonstrations over insecurity.
He has managed to cling to power despite his second and final term as president officially ending in December 2016.
Elections to replace him never took place and a deal was eventually brokered that enabled Kabila to stay in office until a vote that was due to be held in 2017. The poll has since been postponed until December 23, 2018.
"We saw the flames consume the residence of the president of the republic when we awoke," said Pascal Mukondi, a resident of Musienene.
Another resident said they "feared retaliation" from the army.
Armed Congolese groups and foreign forces control swathes of territory in North Kivu province and fighting is relatively common.
In a separate development, nine soldiers were killed in two ambushes by a suspected rebel militia group in South Kivu province, the military said Monday.
"The army recorded a loss of nine soldiers in two ambushes in the Baraka operational zone", an unnamed military official told AFP.
A lieutenant was killed on Sunday in the village Lweba, seven kilometres (four miles) from the Baraka district, the official added.
The other deaths came in an attack two days earlier.
"Our hospital received the bodies of eight soldiers killed by bullets on Friday," an official at a hospital in Lulimba, a village 60 kilometres south of Baraka, told AFP.
The military official accused the Mai-Mai militia of being responsible for both attacks, adding that DR Congo's army lost "important material".
AFP