DPR Seals Petrol Stations In Abia For Selling Above Official Price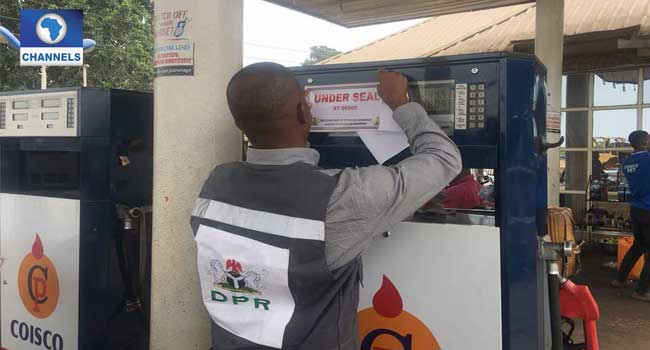 The Department of Petroleum Resources has sealed off erring filling stations in Aba and Umuahia areas of the state.
It was learned that the action was imperative, following an allegation by the task force that the erring stations sold above the official price of N145 per litre.
While monitoring the activities of filling stations to ascertain compliance, they, however, arrested some of the attendants for their refusal to reverse the pump to government-approved price.
DPR's Head of Corporate Services in the state, Mr.Elochukwu Emefo warned that anyone caught diverting fuel would face the full weight of the law.
"Anybody caught hoarding fuel, diverting the product or practising any anomalies would face the music," he said.
The DPR boss, however, explained that the action became necessary following allegations of some petroleum marketers selling above the approved price.
This he added, could no longer be accepted by the government as the people were feeling the effect of their action.
"Some of the petrol stations selling above the pump price were sealed and they would have to pay the penalty for various offences.
"We cannot condole illegality because we know the action of some the petrol dealers have inflicted hardship on the masses.
"There is no sacred cow, this operation that we embark on is very important because it is an integral part of our core mandate.
"That is why we make sure that anybody caught would be dealt with in accordance with the provision of law, we are working very hard to stop all the anomalies."
Operatives involved in the exercise include the Nigeria Security and Civil Defence Corps, the State Security Services, State Ministry of Petroleum.