Residents Protest, Demand Release Of Ekiti Monarch Charged For Murder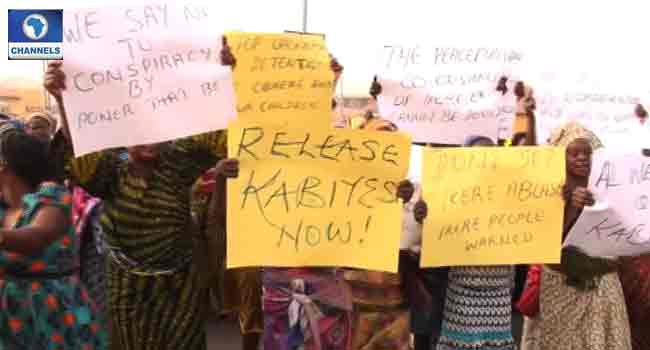 Residents of Ikere-Ekiti in Ekiti State on Wednesday trooped out in huge numbers to stage a peaceful demonstration, demanding the unconditional release of a traditional ruler.  
The traditional ruler, Olukere of Ikere-Ekiti, Oba Ganiyu Obasoyin was on Wednesday, December 27 alongside five others remanded by an Ado-Ekiti Chief Magistrate's Court for alleged murder.
READ ALSO: Traditional Ruler, Five Others Arraigned Over Alleged Murder In Ekiti
The residents began the protest to demanding the immediate release of their traditional ruler at his palace located at Odo-Oja area of the town.
The residents claimed that the traditional ruler is innocent of the killing. They described the allegation as political move aimed to dent his image.
The residents marched round the sacred tree in the heart of the town where one of the High Chiefs of the town Folusho Olowolafe addressed them.
Olowolafe urged the residents to exercise patience noting that efforts are on top gear to ensure the release of the monarch.
The protesters were mostly, traditional chiefs, community leaders , aged men and women who sang solidarity songs, bearing placards of with various inscriptions.
A traditional Chief, Adeyemi Afolayan who is the Eselemo of Ikere-Ekiti, Dr. Michael Osundare and Mrs. Amusa Adepeju speaking concerning the situation expressed concerns over what they described as illegal detention of their traditional ruler.
"The protest is in respect of our Oba, the Olukere of Ikere, Oba Ganiyu Obasoyin, Okomolese who is currently in the custody in Ado-Ekiti over trump up charges against him, some of our children are there with him, and the people are not happy about it, they want him released with immediate effect,"Afolayan said.
The residents appealed to the Federal Government to wade into the lingering crisis before it gets escalated.