EFCC Warns Nigerians Against 'Fake Officials' Executing Search Warrants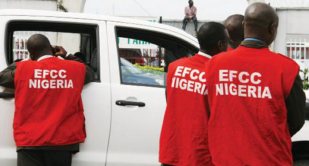 The Economic and Financial Crimes Commission (EFCC) has warned Nigerians to be mindful of 'fake officials' demanding to execute search warrants on behalf of the agency.
EFCC Head of Media and Publicity, Mr Wilson Uwujaren, handed down the warning in a statement signed by him on Wednesday.
He said the anti-graft agency is aware of some unscrupulous individuals who have been parading themselves as operatives of the commission.
According to him, the said impersonators have been harassing some prominent persons in the country on the pretext of executing search warrants on behalf of the commission.
"Among their victims are politically exposed persons, including ranking lawmakers. This development is frightening as it represents a new dimension to the nefarious business of impersonation of EFCC officers by fraudsters and other criminal gangs," the statement said.
The EFCC has dissociated itself from the activities of the said fake officials and advised the public to be cautious when confronted with the request from suspicious persons to search their homes or properties.
"The public are implored to verify the authenticity of any demand for the execution of search warrants by referring to the nearest office of the EFCC.
"They can also contact the head office through these numbers: 08093322644 or 08183322644. The Commission can similarly be reached by email: [email protected]," the statement added.
The Commission also said it has put all its offices on the alert with a view to nipping the activities of such impersonators in the bud.