NNPC Opens 2018/2019 Crude Oil Contract Bid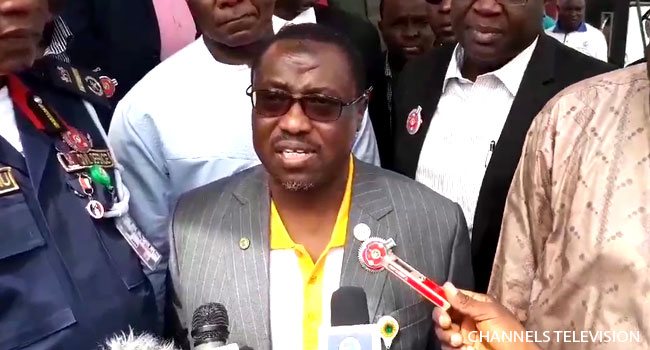 In a bid to drive the Muhammadu Buhari-led administration on transparency and accountability in the conduct of government business, about 254 indigenous and foreign-owned entities submitted bids for the sale and purchase of the Federal Government equity crude under the 2018/2019 crude oil term contracts.
The Group Managing Director of the NNPC, Maikanti Baru said that the exercise was designed to promote greater participation of Nigerian enterprise while preserving World-class standards.
He said that the best practices would be adopted in the selection of bidders, as he promised fairness and just treatment in the process.
"I wish to remind the general public that the Crude Oil Term Contract is not a Procurement Contract but a process of selecting partners for the sale and procurement of NNPC Equity crude oil volumes,''.
Providing further insight into the 2018/2019 crude term bid exercise, Group General Manager, Crude Oil Marketing Division, Malam Mele Kyari, said potential off-takers must be able to fulfil a long list of stringent requirements which include minimum annual turnover of $500 million for 2016 and a Net worth of $250 million for 2016.
Apart from the possession of 2015 & 2016 audited accounts, aspiring off-takers must demonstrate the ability to establish an irrevocable Letter of Credit (LC) subject to contract terms.
On the marketability of Nigeria's crude in the international market, Malam Kyari said Europe remained the major destination of Nigerian crude grades, accounting for 36.59 percent of the total sales, with Asia and the Far East receiving 28.43 percent.
He said 16.57 percent of Nigeria's crude grades were exported to North America, 13.17 percent to Africa, 2.84 percent to South and Central America, while the rest of the world served as beneficiaries for the rest.
He said the sustained reforms in the marketing and disposal of Nigeria's equity crude had eliminated the ugly incidents of 'briefcase' companies as witnessed in the past.
Representatives of the DPR, NEITI, NCDMB and the civil society expressed satisfaction with the level of transparency of the exercise.