Nigeria Cannot Move Forward Without Restructuring, Says Nwodo, Fani-Kayode, Others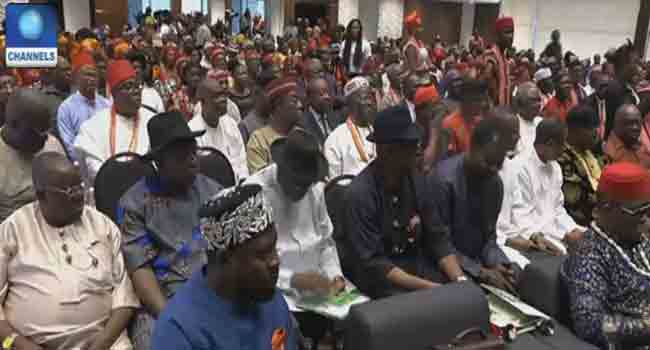 Most political and socio-cultural leaders have renewed the call for Nigeria's restructuring saying that it is the only way the nation can move forward.
The leaders made their position known on Thursday while speaking on the theme, "Handshake Across Nigeria."
In attendance were President of Ohanaeze Ndigbo, Mr John Nwodo; former Aviation Minister, Mr Femi Fani-Kayode; Ayo Adebanjo, representative of Afenifere leader, Mr Reuben Fasoranti and Executive Secretary of United Niger Delta energy development and security Tony Uranta, among others.
Nwodo believes that restructuring is the only way the nation can survive as it enables states to have total control over its resources for survival.
"Every analysis shows that unless we devolve power to the state and asks them control of their natural resources and basic utilities of power, environment education and infrastructure development Nigeria will collapse," he said.
On his part, Ayo Adebanjo accused President Buhari of opposing restructuring because of ethnic interests.
He said, "Buhari is the problem of Nigeria for opposing restructuring, there is no other way. The only thing that can keep this country together in peace is restructuring, Buhari knows he cannot keep it together without restructuring in peace that is why he wants to use force."
Similarly, Fani Kayode called on the President to produce the leader of the Indigenous People of Biafra, Mr Nnamdi Kanu and to proscribe the Miyetti Allah association.
He added, "I am a friend to the great Nnamdi Kanu and I will never forget him, and I call on the government of Muhammadu Buhari whatever you have done to him, wherever you have kept him, I ask you to produce him and Let us have him. Whether you have killed him tell us, bring it back to us, I acknowledge him."