Fuel Scarcity: NNPC Says Porous Borders Affecting Distribution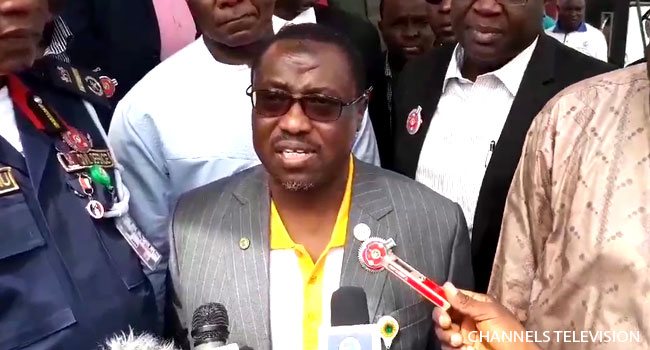 The Nigerian National Petroleum Corporation (NNPC) has raised alarm over the sustained nefarious activities of some cross-border fuel smuggling syndicates and hoarders in the country.
The Corporation also noted that such activities have so far impeded its efforts to sanitise the fuel supply and distribution matrix across Nigeria.
NNPC Group Managing Director, Dr Maikanti Baru, said this on Wednesday in a presentation before the Joint National Assembly Committee on Petroleum Downstream in Abuja.
He informed the lawmakers that if the activities of the fuel truck diverters and smugglers were left unchecked, it would be absolutely difficult to guarantee round-the-clock availability of petrol throughout the country.
Baru added that the sudden and unnatural shock in fuel consumption to record levels has over-stretched the Direct-Sale-Direct-Supply (DSDP) crude for product supply arrangement which was originally based on 35 million per day petrol consumption pattern.
He lamented that with the current unprecedented average daily fuel evacuation of 55 million litres since December 1, 2017, to date, it was imperative for the security agencies to close-in on the smuggling syndicates who were cashing in on the obvious petrol price differentials between Nigeria and neighboring countries to make illicit profits.
The NNPC boss explained further that apart from straining the ability of the Corporation to sustain the prevailing 100 per cent petrol importation in the face of increasing cost, the current situation was impacting negatively on NNPC's resources for servicing Joint Venture Cash-Call and other obligations.
To sustain adequate supply of petroleum products and national energy security, he, however, stress the need for the Federal Government to provide flush volumes in January and March 2018.
He also advised government to create an enabling environment for other oil marketing companies to participate in the importation of petroleum products.
Baru opined that supply should be doubled in order to raise the fuel sufficiency template back to the 30 days threshold from the current 15 days, thereby bringing in at least two vessels per day for 20 days.
He also informed the committee that the Corporation would require additional funding outside the DSDP regime to achieve this.
On the prevailing fuel scarcity, he said measures put in place include engagement of the Nigerian Navy, Federal Road Safety Corps and Nigeria Security and Civil Defence Corps (NSCDC) to improve truck movement among others.
The NNPC GMD added that in addition to the regular DSDP monthly programmed deliveries, the NNPC imported 12 cargoes – nine in December 2017 and three in January 2018.
In his response, Chairman of the NASS Joint Committee, Senator Kabiru Marafa, directed the NNPC to resolve the situation within seven days.
Baru's presentation was contained in a statement signed by the NNPC Group General Manager, Group Public Affairs Division, Mr Ndu Ughamadu.