Senate Orders NNPC To End Fuel Queues In Seven Days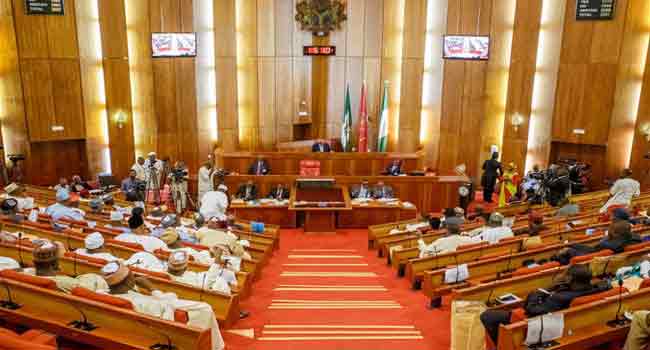 The Senate has ordered the Nigerian National Petroleum Corporation (NNPC) to bring an end to the lingering fuel crisis in the country within the next seven days.
The Senate gave the order on Thursday following a presentation by the NNPC Group Managing Director, Dr Maikanti Baru, before the Joint National Assembly Committee on Petroleum Downstream in Abuja (on Wednesday).
Mr Baru informed the lawmakers that if the activities of the fuel truck diverters and smugglers were left unchecked, it would be absolutely difficult to guarantee round-the-clock availability of petrol throughout the country.
He added that the sudden and unnatural shock in fuel consumption to record levels has over-stretched the Direct-Sale-Direct-Supply (DSDP) crude for product supply arrangement which was originally based on 35 million per day petrol consumption pattern.
Furthermore, he suggested that with the current unprecedented average daily fuel evacuation of 55 million litres since December 1, 2017, to date, it was imperative for the security agencies to close-in on the smuggling syndicates who were cashing in on the obvious petrol price differentials between Nigeria and neighboring countries to make illicit profits.
Read Also: Fuel Scarcity: NNPC Says Porous Borders Affecting Distribution
To sustain adequate supply of petroleum products and national energy security, he stressed the need for the Federal Government to provide flush volumes in January and March 2018.
At the resumption of plenary on Thursday, the Senate in a resolution, directed the NNPC to end fuel queues in seven days.
It also directed all security agencies to ensure effective border control measures and avoid the smuggling of petroleum products.
Furthermore, it asked the Department of Petroleum Resources (DPR) to double their efforts in enforcing price control and monitoring.