How Ekwueme Left A Remarkable Legacy In Politics – Anyaoku
Former Secretary-General of the Commonwealth Emeka Anyaoku has listed some of the major contributions of late Alex Ekwueme to Nigeria's democracy.
He noted that the former vice president left a remarkable legacy in the nation's politics, philanthropy, as well as national and international service.
Anyaoku said this on Friday in his tributes to the elder statesman at the funeral service held in Okoh, his hometown in Anambra State.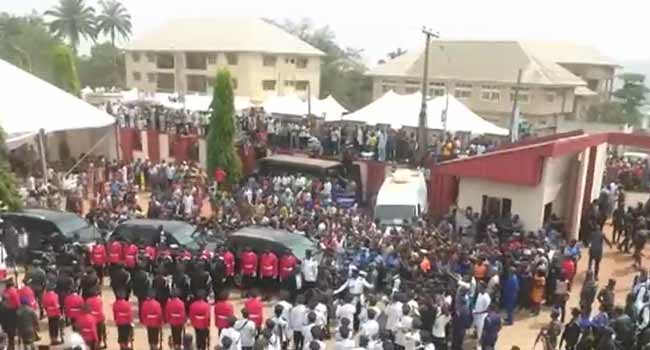 Addressing an audience at the service, he said: "We are gathered here to say goodbye to one of our most outstanding leaders, but who was not a typical Nigerian politician."
The former Commonwealth Secretary-General stated that Ekwueme's political career represented the brand of politics that should be the hope for Nigeria's political future.
He also described the former vice president as a true Nigerian patriot who has a wide knowledge and unsegregated friendships across the country.
"He (Ekwueme) was a committed champion for restoring democracy to Nigeria by leading the group of 34 to break … General Sani Abacha's seeming entrenched military dictatorship.
"And he was the man who played a similar role in the formation of the Peoples Democratic Party (PDP) that was to become the country's largest political party at the time," said Anyaoku.
He further lauded Ekwueme as a "cerebral politician" who at the Constitutional Conference of 1995 concede and introduced the idea of zoning Nigeria into six geo-political regions.
Despite the major role he played in the creation of the PDP, the elder statesman said the former vice president was not angered when he was denied the chance of leading the country.
He said: "An example of his principled politics without bitterness was how he (Ekwueme) readily accepted the outcome of the Jos Convention of PDP in 1998, where he was denied the party's presidential ticket; notwithstanding the fact that everyone acknowledged his leadership role in the formation of the party and in its activities.
"Yet he accepted readily, the decision of the party to choose another presidential candidate and he went out of his way to actively campaign for that candidate – General (Olusegun) Obasanjo – who won the election."
As the general elections draw nearer, Anyaoku asked aspirants and political parties as well as stakeholders to sustained Ekwueme's legacy for a better democracy.