Los Angeles Times To Be Sold To Local Billionaire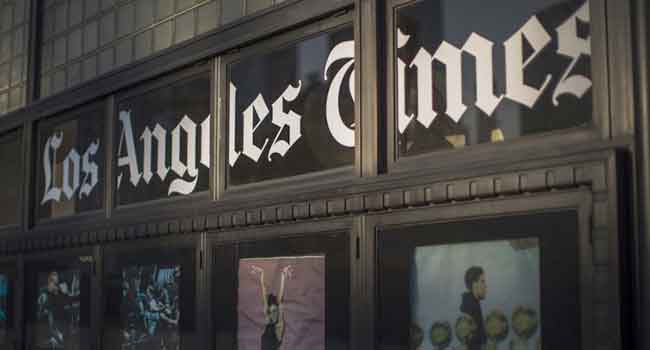 The Los Angeles Times is being sold to billionaire physician and investor Patrick Soon-Shiong in a move aimed at reviving the fortunes of the newspaper amid recent turmoil.
Publishing group Tronc Inc. said it reached a deal to sell the LA Times and San Diego Union-Tribune to Soon-Shiong's Nant Capital for $500 million plus the assumption of $90 million in pension liabilities.
The move comes after months of newsroom unrest at the storied Los Angeles daily that has seen three editors in the past six months, and a vote to unionize the journalists.
"We are pleased to transition leadership of the Los Angeles Times and The San Diego Union-Tribune to local ownership, and we are certain that the journalistic excellence in Southern California will continue long into the future," said Justin Dearborn, chief executive of Tronc, the name adopted for the group previously known as Tribune Publishing.
Soon-Shiong, a South African-born surgeon whose biotech investments have boosted his net worth to some $7.8 billion, said in the statement: "We look forward to continuing the great tradition of award-winning journalism carried out by the reporters and editors of the Los Angeles Times, The San Diego Union-Tribune and the other California News Group titles."
The LA Times, like many newspapers, has been downsizing its staff as readers turn away from print to online news platforms.
The Los Angeles daily was family-owned for more than a century before being sold to the Chicago-based Tribune Co. in 2000.
Tribune Co., which split off its broadcast division and renamed its publishing arm Tronc (for Tribune Online Content), will continue to own the Chicago Tribune, Orlando Sentinel, South Florida Sun-Sentinel, Baltimore Sun and the New York Daily News.
Soon-Shiong, born in South Africa to Chinese parents, also owns a stake in the Los Angeles Lakers basketball team. He has been a faculty member at the UCLA medical school and has invested in and donated to medical research.
AFP