Serena Williams Returns To Competition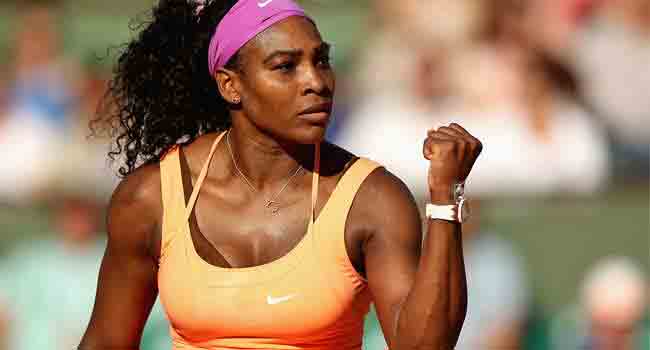 Serena Williams made her long-awaited comeback to competitive tennis on Sunday alongside elder sister Venus after the United States sealed a decisive victory over the Netherlands in their defence of the Fed Cup.
It is Serena's first competitive match since winning her 23rd Grand Slam title at the 2017 Australian Open.
The 36-year-old American took time away from the sport to give birth to her daughter and get married.
She and her husband, Alexis Ohanian, the co-founder of Reddit, a social news website, welcomed their baby girl at a clinic in West Palm Beach, Florida on September 1.
Shortly after in November, the couple had a Disney themed wedding at the Contemporary Arts Center in New Orleans.
The high-profile wedding was well attended by celebreties such as Beyonce, Kim Kardashian, Eva Longoria, among others.
Serena, however, returned to the games in December, just four months after childbirth but was defeated by French Open champion Jelena Ostapenko who powered to victory in the "first to ten points" final set at the Abu Dhabi exhibition tournament.
She, however, shook off a scratchy start.
On Friday, she told reporters that her path back had been full of "ups and downs" but credited her sister with helping her find her rhythm.
There had been speculation she may drop out of Sunday's doubles match, against Lesley Kerkhove and Demi Schuurs, after Serena was the only US player to not attend practice in the morning.
But team captain Kathy Rinaldi confirmed her participation after sister Venus won her singles match against Richel Hogenkamp earlier to seal victory for the United States, 3-0.
"Serena's gonna be joining her sister Venus!" she announced, to roars of approval before the superstar appeared dressed in a white top, dark blue shorts topped off with a red headband.
The sisters have won 22 doubles titles together, the last of which was Wimbledon in 2016.
Their pairing for the dead-rubber looked set to be a final, feel-good victory lap for the Americans.
They have enjoyed enormous support from a sold-out 5,200-strong crowd in the mountainous city of Asheville, North Carolina, famous for its historic architecture, breweries and vibrant art scene.
Venus' participation meant there was no room for Lauren Davis, the US' fourth player.