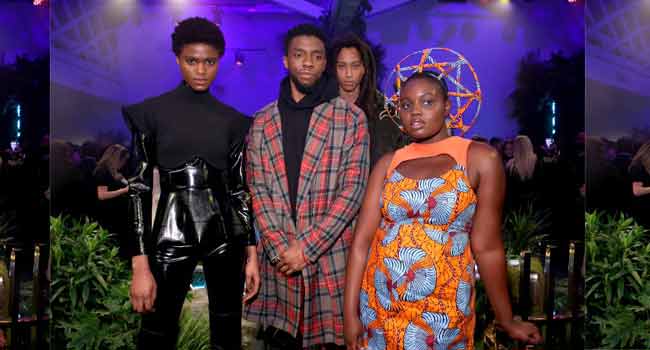 Marvel Studios brought "Black Panther" fever to New York Fashion Week, inviting designers to showcase clothes inspired by the iconic movie, already winning rave reviews ahead of its Friday release in the United States.
More than a thousand people packed the Welcome to Wakanda presentation in the West Village that featured the work of 10 labels, including Chromat, Cushnie et Ochs and LaQuan Smith.
"The inspiration for me was female empowerment," Smith told AFP. "I wanted to create something that really just connected to the characters and the film… embodying power, and feminity, and strength and sensuality."
Reviews following Monday's premiere of the movie that stars Hollywood's first black superhero to get his own stand-alone film was electric, calling the picture "iconic" and "astonishing."
"I think what made Black Panther more fashionable than other superhero films was really about the cast, the attitude that the cast really embodies," said Smith. "I hope it inspires young boys and young girls."
Otherwise here is a quick roundup of the best of Fashion Week day five, before the global 2018 fall/winter season shifts to Europe.
– Caribbean cruise –
American fashion elder statesman Ralph Lauren escaped to Jamaica in troubled times, both politically and business-wise, for spring, his latest collection adhering to a see-now, buy-now concept.
On a drab February morning, the 78-year-old transported his guests to a set evoking his stunning villa in Jamaica with a blue infinity-pool effect runway watched by actresses Hilary Swank and Rachel Brosnahan.
It opened with a calypso Caribbean beat as models walked barefoot dressed in delicate blue and white floral dresses with full skirts and flirty necklines before Bella Hadid strode out in a denim cocktail dress with feather finish and clothes segued into classic maritime.
But if the show was a master class in the rags-to-riches designer's unique, clean silhouette that for decades has personified upmarket East Coast style, it remains unclear whether his quintessential blueprint can help revive sales in an industry so beloved of change.
The company announced on February 1 that company-wide third-quarter revenue fell four percent to $1.6 billion, despite growth in the Asia and European markets.
Sales at its North American stores fell 10 percent during the crucial holiday season quarter, including a 27 percent decrease in e-commerce.
Bowing out
Across town, fellow septuagenarian and first lady favorite Carolina Herrera took her final bow as creative director from her eponymous four-decade-old label, handing the design reins over to Wes Gordon.
Models ended the show at the Museum of Modern Art wearing crisp white shirts and single-coloured taffeta skirts, belted at the middle, in tribute to Herrera's own signature style.
The Venezuelan-born 79-year-old was treated to a standing ovation and an extravagant bouquet of long-stemmed red roses, as she smiled and waved goodbye, joined by her white coated atelier staff.
It was a nostalgic collection, perhaps reflecting her distaste with modern fashion, featuring plenty of monochromes, long hemlines and lametta-style coats and skirts. The standout was delicate pointy ankle boots in gold, purple, green and silver sequins.
– Shooting for the stars –
Duchess of Cambridge favourite, Britain's Jenny Packham unveiled a stunning collection of Cosmos-inspired evening wear via curated photo shoot following private appointments with retailers and the press.
Her inspiration was the Cosmos — the stars and galaxies, and the themes of Ridley Scott's dystopian "Blade Runner" — showcasing a timeless, elegant silhouette beloved by her well-heeled client base.
Beaded gowns were covered in crystal starbursts, crescent moons twinkled on tulle and delicate capes offered more modest women a cover-up. Unusually for Packham, black, capitalized on the red carpet trend this awards season to protest against sexual harassment.
"I do think perhaps it's a little bit of escapism, a sort of an otherworldly experience at the moment because we're all a bit fed up," said Packham of the cosmic theme.
While she plans to show in London in September to mark the 30th anniversary of her label, she has been pleased with her appointment roll-out, now done two seasons running, instead of a catwalk show.
Packham said she wanted her London extravaganza to be "forward-thinking" as the brand looks to the future, now expanding into China and having just launched a bridal shoe collection with L.K. Bennett.
AFP