TRENDING: Nigerians Call Out Okorocha After Zuma's Resignation
Days after South Africa's, Jacob Zuma resigned as president, Nigerians have called out the Imo State Governor, Rochas Okorocha, over a statue of the former president erected in the state.
Okorocha had unveiled Zuma's statue in October 2017 – One of the several gigantic structures erected by the state government in honour of renowned African leaders and other distinguished individuals.
The development was, however, received with much criticism, especially from Imo residents some of whom claimed that the government was yet to pay workers' salaries.
With Zuma announcing his immediate resignation on Wednesday after the ruling ANC party threatened to eject him from office via a parliamentary vote of no confidence, more criticisms trailed the erection of his statue in Imo state.
Read Also: Ramaphosa Replaces Zuma As South African President
The frustration of many has been based mainly on the fact that the former President, whose reputation has been stained by years-long allegations of graft, was, however, being "celebrated" in Nigeria as seen in the honorary gesture of Governor Okorocha.
Some aggrieved Nigerians did not hesitate to take a swipe at the governor via Twitter. See some of the comments below.
Jacob Zuma was so bad and corrupt that South Africans had to force him to resign before the end of his term But Zuma has a statue in Nigeria for his exemplary leadership and contribution to society. pic.twitter.com/eeoJwg5DoB

— Austine Chimdum (@Austine_Chimdum) February 15, 2018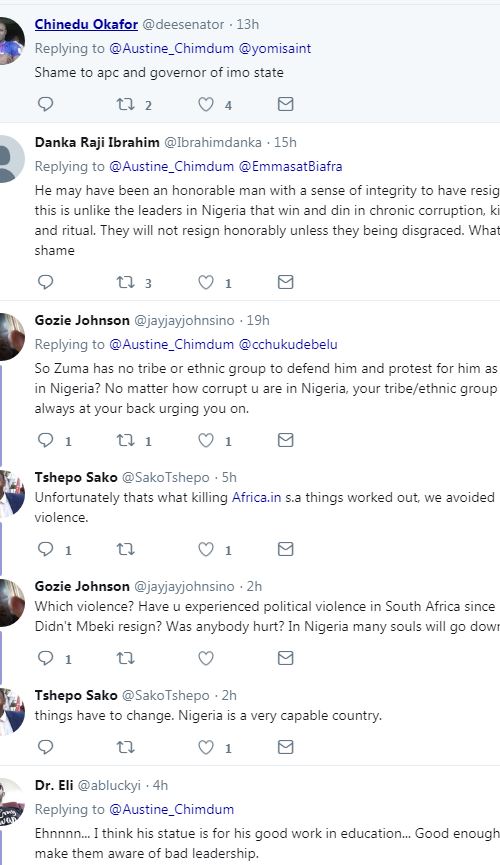 Whatever may happen to his legacy in South Africa, Jacob Zuma still stands tall in Nigeria.

This is a problem. pic.twitter.com/9CoVfSkfSf

— AYO SOGUNRO (@ayosogunro) February 15, 2018
Despite the backlash from social media users, President Muhammadu Buhari as well as some other top government officials, believe he had leadership qualities that were worthy of note and have wished Mr Zuma well in his endeavours.
In a statement by his Senior Special Assistant on Media and Publicity, Mr Garba Shehu, President Buhari said: "The Nigerian leader salutes the leadership and statesmanship of former President Jacob Zuma, and wishes him the best in his future endeavours.