Yobe Attack: Military Rescues Some Schoolgirls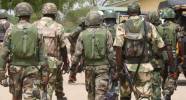 The Nigerian Army has rescued some of the girls kidnapped by Boko Haram terrorists at the Government Girls Science Technical College (GGSTC) in Yobe State.
The state government confirmed this in a statement issued on Wednesday by the Director-General of Press Affairs to the Governor, Mr Abdullahi Bego.
READ ALSO: Over 50 Schoolgirls Missing After Boko Haram Attack, Yobe Govt Confirms
However, the number of girls rescued has not been ascertained but the government asserted that they are in the military custody.
While the state government promised to provide more details about their number and condition in due course, Governor Ibrahim Gaidam said he is monitoring the situation closely.
He also commended the gallantry and hard work of the soldiers involved in the operation.
Missing Yobe Schoolgirls: Buhari Orders Military To Take Charge
The girls went missing three days ago after members of the outlawed group invaded their school in Dapchi, the headquarters of Bursari Local Government Area of Yobe State in North-east Nigeria.
Following the attack, the governor confirmed that at least 50 girls were yet to be found out of the 926 students in the school.
"The Yobe State Government is working with the Nigerian Army and other security and law enforcement agencies to ensure that all students in the school are fully accounted for," Gaidam had said in an earlier statement.
Worried by the incident, President Muhammadu Buhari directed the military and other security agencies to take control at the school.
According to the Minister of Information, Lai Mohammed, who briefed State House correspondents after the end of the FEC meeting in Abuja on Wednesday, the President also ordered the military to bring the situation under control.
President Buhari had also sent a delegation led by the Minister of Defence, Brigadier General Mansur Dan-Ali (rtd), to Dapchi to ascertain the situation. The delegation is to depart on Thursday.