Court Adjourns Dasuki's Trial Till March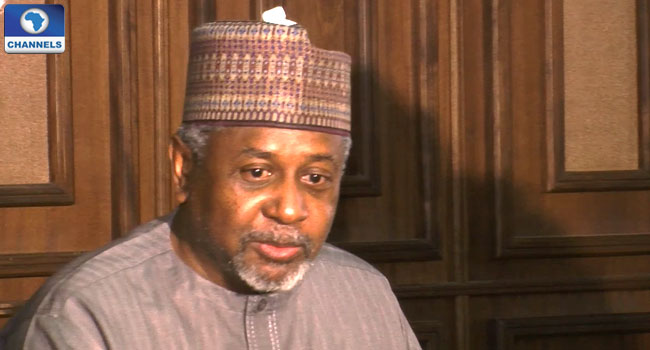 Justice Hussein Baba-Yusuf of the Federal Capital Territory High Court in Maitama, Abuja, has adjourned further hearing in the 19 counts of criminal diversion of $2.1billion involving former National Security Adviser, Colonel Sambo Dasuki (rtd), and others.
A statement from the Economic and Financial Crimes Commission (EFCC) revealed that the trial was adjourned till March 22, following Dasuki's absence in court on Wednesday.
Other defendants in the case include a former governor of Sokoto State, Attahiru Bafarawa, and his son, Sagir; as well as a former Director of Finance and Administration in the Office of the NSA, Shuaibu Salisu; a former Minister of State for Finance, Bashir Yuguda, and Sagir's firm, Dalhatu Investment.
The defendants were alleged to have conspired to divert the said money which was part of funds earmarked for the purchase of arms to fight Boko Haram insurgency in the North East.
At the resumed sitting on February 21, counsel to the EFCC Henry Ejiga told the court that the case was slated for hearing and expressed the readiness of the prosecution to go on.
However, the counsel representing the former NSA, Adeola Adedipe, apologised for Dasuki's absence and informed the court of a pending application at the Supreme Court of which judgment was reserved for March 2.
He then urged the court to fix a date after the Supreme Court's judgment.
Adedipe's submission was not objected by the EFCC counsel.
The former NSA's co-defendants had sought to be separately tried to ensure speedy trial.
Counsel to the EFCC Rotimi Jacobs, however, objected the application in a counter-argument.
He noted that Bafarawa, his son and their family company, Dalhatu Investment Limited, were properly joined with Dasuki, Bashiru Yuguda and Shuaibu Salisu for their joint roles in the alleged diversion of $2.1billion arms funds.
While urging the court to discountenance the application, Jacobs stressed that Dalhatu Investment owned by Bafarawa and his son was the receiver of the alleged stolen funds.
Justice Baba-Yusuf, in his ruling on October 19, 2017, refused the application, while relying on ACJA, 2015.
Dissatisfied, the defendants approached the Court of Appeal, urging it to order the trial court to separate the case.
The appeal also failed to succeed, prompting a further appeal to the Supreme Court, which judgment was reserved.
The court, in the circumstance, adjourned.