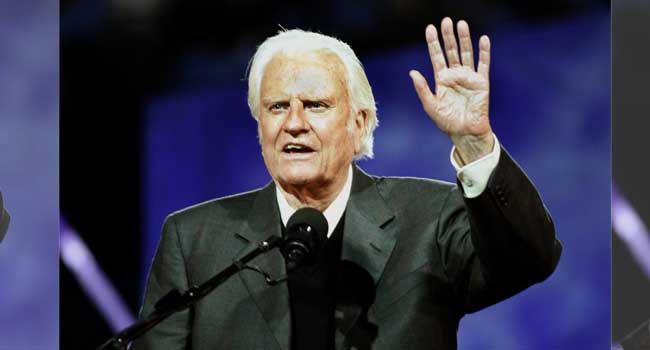 United States Presidents from Jimmy Carter to Donald Trump led the chorus of tributes Wednesday to the influential evangelist Billy Graham, a spiritual advisor to a dozen American leaders who has died at age 99. 
"The GREAT Billy Graham is dead," Trump tweeted. "There was nobody like him! He will be missed by Christians and all religions. A very special man."
Trump ordered American flags to be flow at half-staff at the White House and other US public buildings and facilities on the day of Graham's interment.
Tall and handsome, Graham, an ordained Southern Baptist minister, cut a charismatic figure as an evangelical preacher whose huge tent meetings and rallies found audiences on radio and television.
"Billy Graham was America's pastor," said former president George H. W. Bush.f
"His faith in Christ and his totally honest evangelical spirit inspired people across the country and around the world. I think Billy touched the hearts of not only Christians, but people of all faiths, because he was such a good man."
"I was privileged to have him as a personal friend," Bush added. "He was a mentor to several of my children, including the former president of the United States. We will miss our good friend forever."
The Southern Baptist preacher was close to the Bush family, and former president George W. Bush once said that a private meeting with Graham in 1985 helped him quit drinking.
While he preached to a long line of US presidents, from Harry Truman to Barack Obama, according to his biographers Graham found only Carter to match him in dedication to his faith.
In a tribute, the former Democratic president spoke of Graham's "enormous influence on my own spiritual life."
"Tirelessly spreading a message of fellowship and hope, he shaped the spiritual lives of tens of millions of people worldwide," Carter said.
"Broad-minded, forgiving, and humble in his treatment of others, he exemplified the life of Jesus Christ by constantly reaching out for opportunities to serve."
"I was pleased to count Reverend Graham among my advisers and friends," Carter said.
Obama said on Twitter that Graham was "a humble servant who prayed for so many — and who, with wisdom and grace, gave hope and guidance to generations of Americans."
Bill Clinton, the former Arkansas governor who became president in 1993, said "I will never forget the first time I saw him, 60 years ago in Little Rock, during the school integration struggle. He filled a football stadium with a fully integrated audience, reminding them that we all come before God as equals, both in our imperfection and our absolute claim to amazing grace."
"Later as governor, in the White House, and afterward, I saw him live that faith fully in the constant kindness, encouragement, and counsel he extended to Hillary and me," Clinton said.
Graham was recently portrayed as a spiritual adviser to the young Queen Elizabeth II in the recent Netflix television series "The Crown."
The Archbishop of Canterbury, Justin Welby, the spiritual leader of the world's Anglicans, said Graham"stood as an exemplar to generation upon generation of modern Christians."
"When it comes to a living and lasting influence upon the worldwide church he can have few equals: for he introduced person after person to Jesus Christ.
"There are countless numbers who began their journey of faith because of Dr Graham," Welby said. "The debt owed by the global church to him is immeasurable and inexpressible."
AFP