FG Launches Digital Broadcasting In Osun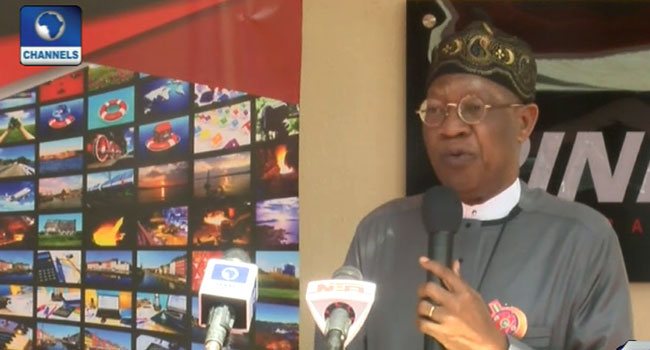 The Federal Government has launched the switchover to digital broadcasting in Osun State, South-west Nigeria.
The Minister of Information and Culture, Mr Lai Mohammed, launched the switchover on Friday at the office of the Nigeria Television Authority (NTA) in Osogbo, the state capital.
The Minister, who was in the company of the Osun State Governor, Rauf Aregbesola, among other dignitaries, described the development as a revolution.
He noted that the process of digital switchover in Nigeria which began in April 2016 has already traversed about five states with Osun as the six.
"I congratulate Osun people for this special innovation and initiative, this is an opportunity for people of the state to have unlimited access to digital television," Mohammed said.
"The digital switchover is indeed a democratisation of information and entertainment; I commend the Integrated Television Service for their commitment and consistency.
"We are taking another bold step to build the biggest free-to-air in Africa, this is a challenge to all of us to join the unstoppable train. In this train, there is enough for everybody," he added.
In his address, Governor Aregbesola believes the greatest achievement of the digital revolution in broadcasting is the availability of information and entertainment.
He was delighted that the switchover has broken the monopoly of access to digital television by the wealthy citizens.
"This revolution in broadcasting has made information and entertainment more available to the common people with little resources," the governor said. "You do not need more than a room to own a television station, with different platforms and segments."
"We can now have agriculture, culture and many other platforms with 24-7 accessibility. This DSO is an emerging innovation after the advent of coloured television," Aregbesola added.
Notable Nigerians at the event are the Director-General of Nigeria Broadcasting Corporation, Mr Modibbo Kawu, and the Director-General of NTA, Mr Ibn Mohammed, among others.