Alleged Money Laundering: Third Witness Testifies In Trial Of Fani-Kayode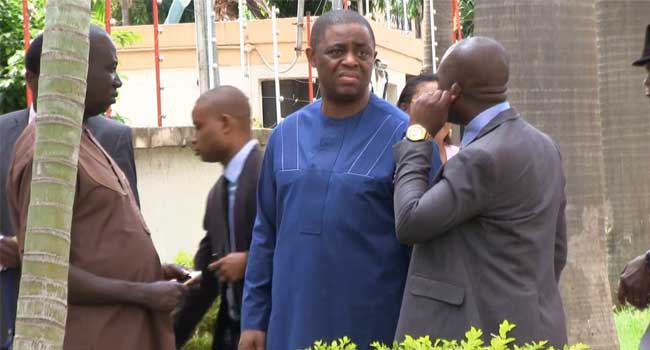 A third prosecution witness had testified in the trial of a former minister of aviation, Mr Femi Fani-Kayode, and three others for allegedly laundering N4.9billion.
The witness, Ms Sheelis Gana, gave her testimony on Thursday before Justice Rilwan Aikawa of the Federal High Court in Lagos.
Mr Fani-Kayode is standing trial on 17 counts alongside a former minister of finance, Mrs Nenadi Usman, one Danjuma Yusuf, and a company, John Trust Dimensions Nigeria Limited.
In the charges, the Economic and Financial Crimes Commission (EFCC) accused the defendants of conspiracy, unlawful retention of proceeds of theft and money laundering.
Giving her testimony, Ms Gana who is a branch manager with Zenith bank told the judge that Fani-Kayode and one of his co-defendant, Joint Trust Dimensions Nigeria Limited, were customers of the bank.
Led in evidence by the EFCC Prosecutor, Rotimi Oyedepo, the witness narrated how Mr Fani-Kayode opened an account with the bank in January 2015 during the build-up to the general elections.
She also took the court through several inflows and outflows which occurred on the account between January and March 2015.
Under cross-examination by one of the defence lawyers, Ferdinand Orbih, the witness told the court that one of the documents submitted by the bank to the EFCC during the course of the agency's investigations was found to have been doctored by certain officials in her bank.
She disclosed that the anti-graft agency actually discovered the irregularity.
The witness added that apart from the document in question, she did not know whether there were other doctored documents in what the bank sent to the EFCC.
On certain transactions carried out on the accounts of Fani-Kayode and Joint Trust Dimensions Nigeria Limited, the bank manager said that though she did not personally handle the transaction, in her judgment, there was nothing unlawful about the transactions and this was why the bank ensured that they were successfully carried out.
On certain withdrawals made from the accounts which exceeded the withdrawal limit of N5million for individuals, the witness could not confirm that Fani-Kayode personally received the monies.
She also testified that the former minister did not complain that his money was missing.
After sitting for over four hours, the court adjourned till Friday, March 2 for further hearing in the matter.