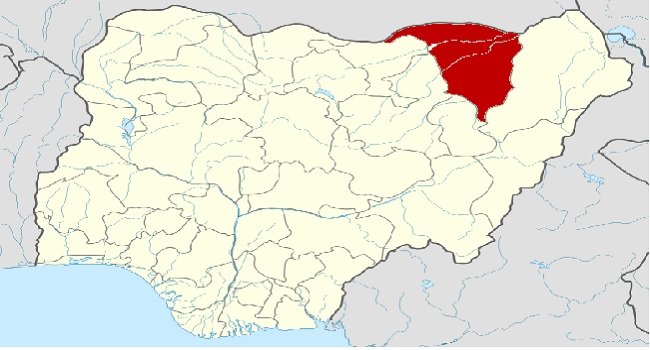 A suspected member of the Boko Haram terrorist group, targeting worshippers at a mosque, blew herself up on Friday in Buni Yadi, Yobe State.
A witness told Channels Television that two female suicide bombers evaded the troubled town on Friday, and as one blew self in a failed mission, the other ran away for fear of being apprehended.
READ ALSO: Boko Haram Not Totally Defeated, But Terribly Degraded – Presidency
He said the incident occurred at Fulatari mosque of Buni Yadi, the headquarters of Gujba Local Government area of the state.
A military source also confirmed the incident to Channels Television, saying the failed suicide mission occurred very early in the morning when worshippers were yet to arrive at the mosque.
The source said the female bomber was a teenager and one person injured in the process was being treated in the 27th Force Brigade Field Ambulance in the town.
Meanwhile, normalcy has been restored as the troops of the Buniyadi have cordoned off the area for safety.
Friday's incident is the first since the return of residents to Buni Yadi after the Boko Haram insurgents took over total control of the town for over three years.
The attack comes less than two weeks after members of the outlawed group invaded the Government Girls Science Technical College (GGSTC), Dapchi, also in Yobe State.
The insurgents had abducted some students from the school while the Federal Government declared that 110 girls were unaccounted for after the invasion on Monday last week.
Boko Haram Terribly Degraded
Obviously concerned by the abduction, President Muhammadu Buhari vowed that the government would never give up on any of its citizens, as the life of every Nigeria is valued.
To this end, the President had directed the security agencies to ensure the safe release of all Nigerians in the custody of Boko Haram terrorists, including the Dapchi schoolgirls.
Amid the latest attacks by the insurgents, Special Adviser to the President on Media and Publicity, Mr Femi Adesina, maintained that while the war against Boko Haram insurgency has not ended, the terrorists have been terribly degraded.
Adesina, who appeared recently on Channels Television's political programme, Sunday Politics, noted that President Buhari's administration has recorded a notable progress in the war against the insurgency.
"If the operating word is 'totally', the answer is no obviously – but has Boko Haram been degraded? I will say yes! terribly so. You can compare then and now, they have been terribly, terribly degraded but is the war over? No, it is not completely over," he had said.