Freed UNIMAID Lecturers Ready To Resume Oil Exploration – VC
The University of Maiduguri (UNIMAID) has defied incarceration of its lecturers that lasted over eight months by restating its willingness to align with the Nigerian National Petroleum Corporation (NNPC) to resume oil exploration activities in the Chad Basin.
UNIMAID Vice-Chancellor, Professor Ibrahim Njodi, revealed this on Friday when he led three lecturers and the management team of the university on a visit to the NNPC Headquarters in Abuja, the nation's capital.
READ ALSO: President Buhari Receives Freed UNIMAID Lecturers, Others
In a statement by the NNPC spokesman Ndu Ughamadu, Professor Njodi said the freed lecturers and the entire university community were ready to remobilise for oil exploration in the Chad Basin.
He noted that despite the harrowing experience of the adoptees in the captivity of the insurgents, the University of Maiduguri was focused on carrying through the exploration programme in the inland sedimentary basins.
The freed academics who accompanied the vice-chancellor are Dr Solomon Yusuf and Mr Yusuf Ibrahim (both lecturers of the Geology Department of the university), as well as Mr Haruna Dashe of the Works Department of the Ivory Tower.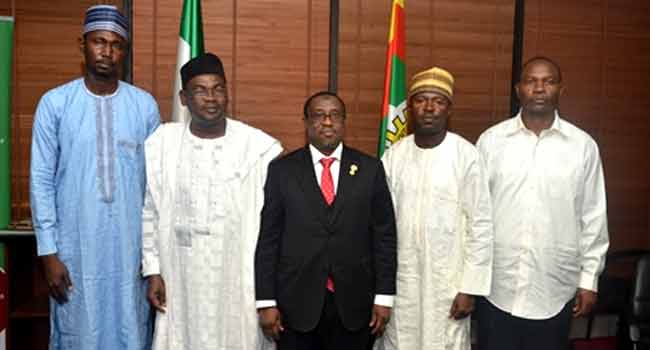 Professor Njodi, however, said he regretted to announce the death of one of the victims of the attack, Muhammed Kolo, who died as a result of gunshot wounds inflicted on him by the insurgents.
He further commended the NNPC, saying the university community would not forget the supports the corporation extended to the families of the victims at their hours of need.
The don sought more succor for the affected lectures, stressing that they passed through unimaginable trauma in the hands of their captors.
In his response, NNPC Group Managing Director Dr Maikanti Baru called for a minute silence for the soul of the victim who died from gunshot wounds and assured the UNIMAID team of the corporation's support.
He thanked the academics for their visit, saying NNPC was ready to mobilise to the Chad Basin for further exploration activities.
The NNPC boss added that the corporation would work rigorously with the university and all relevant security agencies to fortify the environment for smooth exploration activities.
He said it would be a great mark of honour to the departed for NNPC and UNIMAID to resume exploration work in the Chad Basin.
Baru stated that the corporation was convinced on the need to intensify exploration activities in the North, given the need to boost the nation's oil reserves in line with the aspiration of President Muhammadu Buhari for the oil and gas industry.