95 Repentant Boko Haram Fighters Set For Reintegration Into Society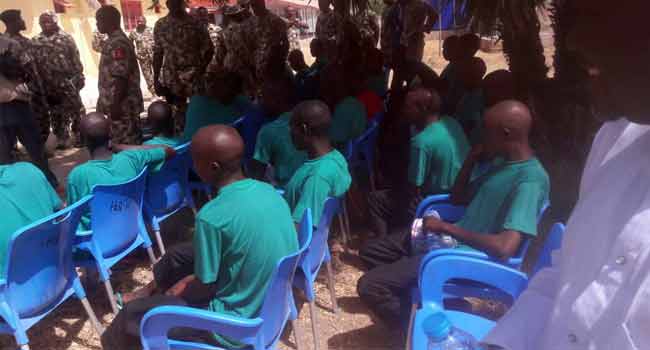 After series of training, vocational skills acquisition, and rehabilitation courses, 95 former Boko Haram terrorists are set to be reintegrated into the Nigerian society.
The repentant terrorists were trained by the Nigerian Army wing charged with the responsibility of Deracialising, Rehabilitation and Reintegration (DRR) in Gombe State.
They were rehabilitated by instructors from departments and agencies from the Federal Government and the National Directorate of Employment (NDE) with the aim of retraining them to become law abiding citizens.
READ ALSO: Man Kills Father, Stabs Mother In Anambra
During the training, the ex-terrorists were engaged in therapy and activities including psychotherapy, psycho spiritual and counselling, adverse effects of drug addiction among several others.
The commandant of the camp, Colonel Adegoke Adetuyi, during the graduation ceremony of the repentant terrorists on Saturday said they were also empowered with vocational skills.
"An essential element of DRR program is training of the ex-combatant by instructors from National Directorate of Employment (NDE). They went through a number of vocations including barbing, shoe making/leather works and cosmetology which compose of making of body cream, perfume and liquid soap among others.
"They were enthusiastic about their skill acquisition program and they are looking forward to practice their trades after discharge from the camp. They are to further their training with NDE in their state of residence in order to enhance smooth reintegration," hen said.
The Gombe State governor, Hassan Dankwambo, on his part assured that all the governors of the north east will assist in re-integrating them into the society.
He also called on the people to patronise them in their chosen career and appreciated the security operatives and the facilitators for contributing to the success of the programme.
The coordinator of  Operation Safe Heaven (OPSC), Major General Bamidele Shafa, said they have earlier facilitated the rehabilitation of 750 men, women and children who were released to their various state government.
He also disclosed that 254 others are currently in the training undergoing the DRR.
One of the repentant fighters, Fadau Bukar, asked for forgiveness for the atrocities they have committed against humanity and the nation as a whole.
"This is happiest day in life. It's like a day of admission into paradise. I appeal to the larger society to receive us wholeheartedly because we have realised that the ideologies of the Boko Haram are wrong that's why we surrendered.
"We have repented fully and will contribute to the development of ourselves, the society and the nation," Bukar said.