EFCC Re-arraigns INEC Officials Over Bribery Allegations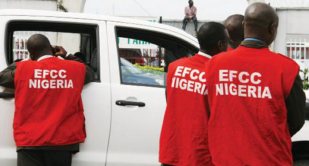 The Economic and Financial Crimes Commission (EFCC) on Wednesday re-arraigned two officials of the Independent National Electoral Commission (INEC) for allegedly accepting gratification to influence the outcome of the 2015 elections.
Until the trial, the first defendant, Christian Nwosu, was the Director of Administration, INEC, Kwara State, while the second defendant, Tijani Inda-Bashir, was said to be the Head of Accounts of INEC's Kwara State office.
Both men pleaded not guilty to the amended charges.
At the last sitting of the court on February 7, the EFCC had arrested the two men outside the premises of the Federal High Court, Lagos shortly after the court adjourned further proceedings in their case till March 7.
Although no reason was given for the arrest, Channels Television gathered that it may not be unconnected with fresh evidence in the case which has necessitated the amended charges against them.
Also mentioned in the amended charge was the former Minister of Petroleum, Mrs Diezani Alison-Madueke, who is said to still be "at large" and a third INEC official, Yisa Adedoyin, who was earlier convicted by the court after pleading guilty to collecting bribes from the former minister ahead of the 2015 elections.
In the charges, all the defendants allegedly conspired to directly take possession of N264,880.000 which they reasonably ought to have known forms part of an unlawful act – of gratification.
Bashir was specifically accused of indirectly taking possession of and retaining N164,880,000 which he reasonably ought to have known forms part of gratification.
The defendants also allegedly made a cash payment of N70,050,000 to Yisa Adedoyin, which exceeded the amount authorised by law without going through a financial institution.
The alleged offences were committed on March 27 and April 7, 2015.
Before the re-arraignment, the first defendant's counsel had opposed the move on the basis that it would further delay the case.
He argued that the amendment would defeat the object of the Administration of Criminal Justice Act (ACJA) 2015 which provides for speedy dispensation of cases.
The EFCC, however, argued that the law allows the prosecution to amend a charge at any time before judgment is delivered.
In his ruling on Wednesday, Justice Mohammed Idris agreed with the EFCC and accepted the amended charge.
He also allowed the defendants to remain on bail on conditions earlier granted them by the court.
Despite amending the charges, the anti-graft agency declined to call any further witness in proof of its case against the defendants.
Meanwhile, Justice Idris has adjourned until March 29 for the adoption of written addresses in the 'no-case submission' already filed by the defendants.