I Will Be President Of Nigeria, Fayose Insists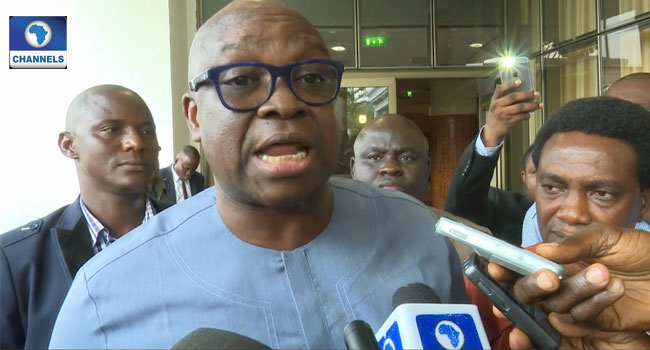 Ekiti State Governor, Mr Ayo Fayose, has once again said he will become the President when Nigerians select a new leader for another four years in 2019.
He said this on Thursday in Ado Ekiti, the state capital while addressing hundreds of women at an event to commemorate the 2018 International Women's Day.
READ ALSO: I Will Defeat President Buhari In Free And Fair Election – Fayose
"I want them to here in the Villa, I will be president of Nigeria Tomorrow, Fayose told his supporters at the gathering.
"Sometimes, it is difficult for people to believe but when it happens, I want you to know that I've said so before."
Ahead of the forthcoming general elections, the Peoples Democratic Party (PDP) had in 2017 zoned its Presidency to the North and its national chairmanship to the South, a position being held by Prince Uche Secondus.
While it seems that Governor Fayose's interest to run for Presidency might be against the party's arrangement, he informed the PDP leaders in a letter last year that his ambition was without prejudice to the party's position but in the overall interest of the party and the country.
Delivering a speech while formally declaring his presidential ambition on September 28, 2017, in Abuja, he said had"I am confident with your support as my party leaders and supporters, I will defeat the incumbent President, Muhammadu Buhari, in a free and fair election. Nobody like me can take out the President from his office – twice I defeated the incumbents to become governor of Ekiti State."
A Better Change
In furtherance of his show of confidence, the governor told his supporters today in Ado Ekiti that he would not be silenced by any form of pressure or intimidation from anyone or group.
I'm Going Straight To Villa, I'm The Next President – Fayose
He took a swipe at the ruling All Progressives Congress (APC), alleging that they have failed to fulfill the promises made to Nigerians in the buildup to the 2015 elections.
"All I said about this present APC government; they are leaving and they have stood the test of time," said Fayose. "For me, greater is he that is in me than he that is there, and in the world."
"I have fought so many battles, my enemies and opponents have lost all, I've won all; I've not lost one. We will not allow anybody to cow us; there is one thing I want to remind them, power belongs to God – you are there today, we will be there tomorrow.
"Nigerians want a change, a better change, a change that is not selective; Ekiti, well-represented by Ayo Fayose will be part and parcel of the government at the centre in 2019 by the grace of God," he added.
Governor Foyese congratulated the women in the state and assured them of the state government's support to help improve their standard of living.
He noted that although it would be his last participation in the celebration as a governor, he would come from Abuja to attend the event as a president next year.
The event was attended by the governor's wife, Mrs Feyisetan Fayose; his deputy, Professor Kolapo Olusola; and rights activist Joe Odumakin among others.