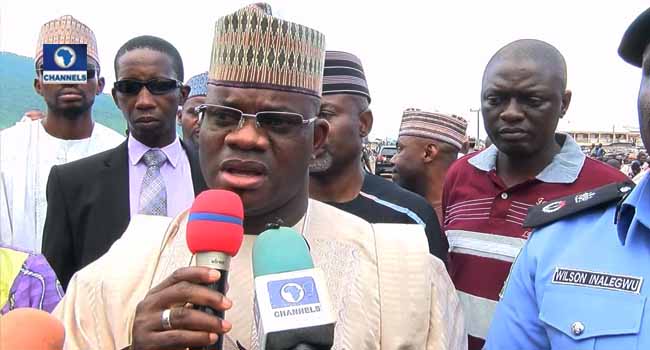 Kogi State Governor Yahaya Bello has denied any involvement in the attack on the senator representing Kogi Central, Mr Ahmed Ogembe.
Senator Ogembe was said to have arrived in the state last week and organised an empowerment programme which was disrupted by some hoodlums.
Governor Bello, who condemned the attack on Thursday, faulted allegations that he masterminded the incident, saying he wasn't in Kogi the day it happened.
"First of all, on that day, I was in Kano," he said in a phone interview on Politics Today. "I had just received a message of a senator coming home to do empowerment; the next thing was the crisis that ensued."
Amid the political crisis in the state, the governor said the police have begun investigations into the incident while a lot of arrests have been made.
Reacting to the lingering disagreement between him and another lawmaker in Kogi, Senator Dino Melaye, Governor Bello blamed the rift on his refusal to waste the available scarce resources of the state.
"We are aware of a particular senator who wants elephants to be shared in Kogi State and I refused.
"The people of the state must have value for the lean resources that we are generating, and we are receiving; if that is his problem, so be it," he claimed.
Meanwhile, some senators had reportedly accused the governor during plenary of introducing policies that could degenerate into a political issue if not properly handled.
He, however, took a swipe at the lawmakers for failing to address national issues such as passing the 2018 Appropriation Bill presented by President Muhammadu Buhari to the National Assembly in November 2017, among several others.
In his words, Governor Bello said: "We have some (men) who are just making the Red Chamber a laughing stock. We have a national budget – up till now, no mentioning of it.
"We have a lot of appointments made by the Federal Government into various parastatals and agencies of government. Today they are lying in the minutes, none is being cleared and several other issues. So when we are talking about threats to democracy, I think they should ask themselves."