Nigerian Navy Arrests 16 Foreigners Over Illegal Oil Trade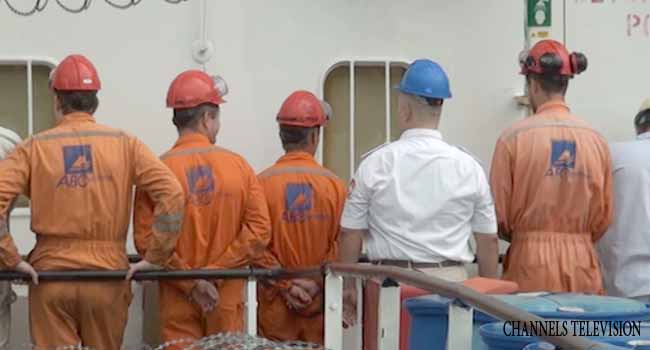 The Nigerian Navy Forward Operating Base (FOB) in Bonny, Rivers State on Friday arrested a ship for suspected illegal oil trade.
The ship had on board 16 foreigners who are Ukrainians. They were caught while operating on a vessel in Nigerian waters.
Commanding Officer, FOB Bonny, Captain Suleiman Olorundare, told Channels Television that the foreigners activities violated the law of cabotage and handed them over to security operatives for further investigations.
READ ALSO: Again, Suspected Pirates Attack Bayelsa Community
They were caught while carrying drums suspected to be automated gas oil, without relevant documentation.
"The ship was arrested in our Maritime environment. She was engaged in illegal trading activities that contravene our national law, especially the Cabotage law," Olorundare said.
The 16 suspects were thereafter handed over to the operatives of the Economic and Financial Crimes Commission (EFCC) for further investigations and possible prosecution.
Meanwhile, the oil-rich Niger Delta region has continued to record increased criminal activities. An attack was carried out in Bayelsa State on Friday by suspected pirates. The attack occurred barely 24-hours after gunmen suspected to be pirates attacked a commercial boat en route Yenagoa, the state capital.
Two passengers including a pregnant woman were shot in the Thursday attack when the pirates attacked the boat travelling from Koluama to Yenagoa.
The Friday attack saw the suspected pirates attack a commercial boat at Okobotuo area, along Akassa-Yenagoa waterways.
The Commissioner of Police in the State, Don Awunah, who spoke with Channels Television blamed the attacks on increased insecurity on the waterway and the riverine topography of Bayelsa State.