Lagos Govt Denies Increasing Vehicle Registration, Number Plate Fees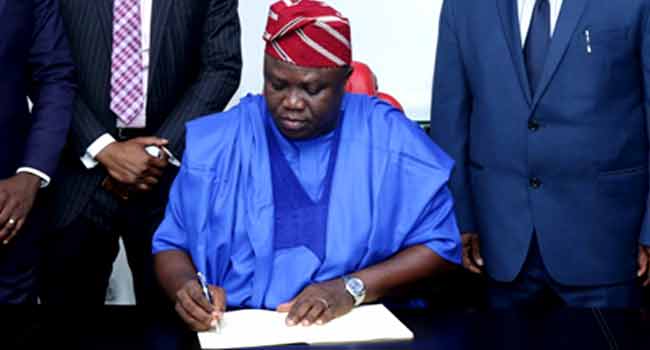 The Lagos State Government on Tuesday denied rumours that it had increased the cost of processing vehicle particulars and application for number plates, saying the rates remain the same across the state.
This was disclosed in a statement signed by the State's Commissioner for Information and Strategy, Mr Kehinde Bamigbetan.
According to him, the clarification became necessary in response to inquiries by members of the public who were worried about the rumours of increase in charges relating to vehicle administration.
Bamigbetan, therefore, asked anyone with evidence of increase in motor registration rates from any of the official Centres managed by the Lagos State Motor Vehicle Administration Authority (MVAA) to report to the agency or the Ministry of Transportation.
According to him, "Although, the cost of maintaining the roads and expanding infrastructures which ease the operations of vehicles is enormous, the Lagos State Government shall continue to bear the burden of keeping the roads motorable and safe for all users."
He said some mischief makers were desperately exploiting the challenges posed to the government by the new Land Use Charge Law which seeks to raise more money for the provision of public infrastructures for the benefit of all, to misinform the public.
Earlier, the Lagos state Governor Akinwunmi Ambode had also debunked insinuations that many tax items were reviewed upward, saying that the claim was not true.
Speaking to journalists after leading a symbolic walk against sexual and domestic violence on Monday in Alausa, Ambode said his administration was very sensitive to the people, and would not go all out to deliberately overburden them.
"I want Lagosians to understand one particular issue. We have over 300 tax items for which nothing has been touched apart from this Land Use Charge and maybe one other.
"But again, we are a very responsive government; we are very sensitive because at the end of the day, governance is about the people; it is about what they want.
"Yes, people might like that infrastructural development is on the progressive chart in Lagos but also it comes with a price. But notwithstanding in the middle of all that, a responsive government will listen to the yearnings of her people.
"At the end of the day, it's all for the development of Lagos. What this government is interested in is to create a trajectory and framework of permanent prosperity for Lagos. It is not about today, it is about the future and if there is going to be permanent prosperity in Lagos, some things have to be done but I can tell you based on the dialogue and the things we have been receiving on the Land Use Charge, obviously we would respond positively to those yearnings," the governor stated.