Judiciary Can't Stop NASS From Carrying Out Its Duties, Says Senate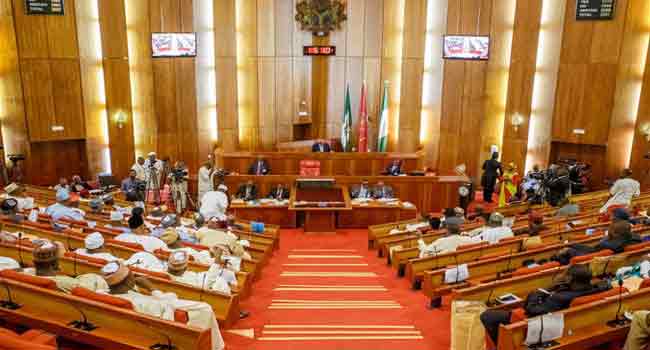 The Senate has said that the judiciary cannot stop the Parliament from carrying out its constitutional duties.
This is in response to an order by a Federal High Court in Abuja restraining the National Assembly from taking steps to pass into law the Electoral Amendment Bill.
The restraining order was issued on Wednesday, March 14, by Justice Ahmed Mohammed of the High Court.
This ruling is a sequel to an oral application made in a suit filed by the Accord Party against the National Assembly, the Attorney General of the Federation, and the Independent National Electoral Commission (INEC).
In the ruling, the court ordered the parties to "maintain status quo ante bellum" that stays every proceeding pending the determination of the motion on notice filed by the Accord party.
The Accord party had approached the court with a motion seeking an order of interlocutory injunction restraining the National Assembly from taking any further action or actions on the Bill titled Electoral Act (Amendment) Bill, 2018, particularly, to convene to pass the said Bill into Law, by two-thirds majority of its two chambers, pending the final determination of the substantive originating summon.
Counsel to the National Assembly, Chinelo Ogbozor, had resisted attempts made by Counsel to the Accord Party, Wole Olanipekun to move his motion on notice seeking a restraining order against the National Assembly on the grounds that the application was not ripe, and pending the service of hearing notice on the AGF.
Ogbozor said they were served barely 48 hours and insisted that the matter cannot proceed.
In view of Ogbozor's opposition, Olanipekun urged the court for Ogbozor to make an undertaking that the National Assembly would not take any action on the subject matter but she refused.
Though the court noted that the motion on notice was not ripe for hearing, it, however, took notice of the oral application made by Olanipekun brought in line with Section 58(5) of Constitution.
Justice Mohammed stated that the court is not granting the prayer contained on the motion paper but "is making the preservative order to safeguard the integrity and sanctity of court."
Consequently, the court directed parties to maintain status quo ante bellum at least to the next adjournment.
But the Senate Minority Leader,  Senator Godswill Akpabio, drew the attention of lawmakers to the court order during plenary on Thursday.
He maintained that the court has no right to interfere with the workings of the parliament according to the principle of separation of powers.
The Senate has resolved to write to the Chief Justice of Nigeria informing him of the court injunction restraining the Senate and reminding him of the principle of separation of powers.
The court ordered the defendants to maintain status quo pending the next adjourned date fixed for March 20, 2018.