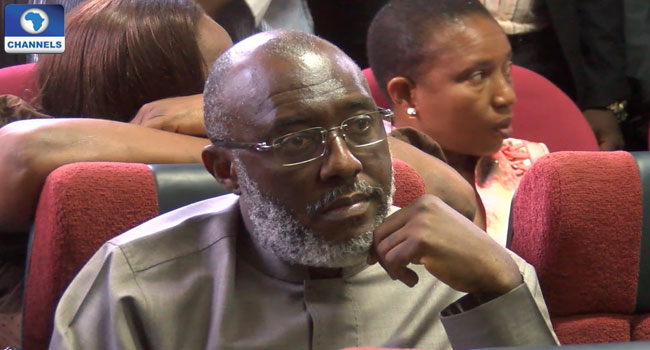 The Supreme Court on Friday adjourned the hearing of Olisa Metuh's application seeking permission to travel abroad for urgent medical treatment.
The trial judge, Justice Okon Abang, noted that even though the application was filed as urgent, the cases cited by the parties have just been forwarded to him.
The judge said he will need time to study the cases.
Justice Abang also noted that he already has pending cases in the Asana Division of the Federal High Court adding that he is domiciled in Asana Division of the Federal High Court for the next one months.
He said due to these reasons, he is inclined to adjourn the trial to April 19, 2018.
Subject to the availability of judicial time, he said he will deliver ruling on the application.
READ ALSO: Metuh Seeks Court's Permission For Treatment Abroad
Metuh had on Wednesday, March 14 filed an application seeking the relate of his passport to enable him to travel to London, United Kingdom to get treatment for a malignant spinal cord disease.
In the application, he asked the court to grant him permission to urgently travel abroad.
Metuh who is the former spokesperson, Peoples Democratic Party (PDP) is standing trial for allegedly diverting N400 million from the former National Security Adviser, Sambo Dasuki.