PDP Says FG Scripted Dapchi Schoolgirls' Abduction, Asks UN To Investigate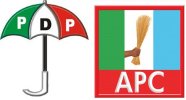 The Peoples Democratic Party (PDP) has accused the Federal Government and the All Progressives Congress (APC) of 'scripting' the abduction of the schoolgirls in Dapchi, Yobe State.
In a statement by its National Publicity Secretary, Kola Ologbondiyan, on Wednesday, the party called on the United Nations and the International Criminal Court (ICC) to investigate the incident, which it said was a scripted drama by the APC in the bid to seek re-election in 2019.
"Our Party considers this act as wicked, callous and tormenting to use innocent schoolgirls as pawns in an ignoble script that was designed to hoodwink Nigerians, all to push a 2019 reelection bid," the statement issued in reaction to the release of most of the abducted girls read in part.
"While this failed Dapchi drama remains a poorly crafted tragicomedy: a scam of no equal dimension, Nigerians are not ready to forgive the APC and the Presidency for the torments inflicted on the girls."
The party further alleged that there is no evidence to show that the schoolgirls were abducted by Boko Haram insurgents and demanded to see the reports by the National Security Adviser (NSA) who was asked by President Muhammadu Buhari to investigate the abduction.
"There is no evidence that the Boko Haram insurgents or any militant group abducted the schoolgirls in the first place. Rather, what is evident to all is the high-level official manipulation of security movements in Dapchi both in the staged abduction and the returning of the traumatised schoolgirls."
"It is instructive to note that till date, no report has been presented by the National Security Adviser (NSA), who has been charged by President Muhammadu Buhari with the investigation of the abduction. This is in addition to deliberate efforts by the government to suppress the free flow of information around the abduction."
The PDP, therefore, called on the United Nations (UN) and the International Criminal Court to commence an investigation into the matter, demanding the arrest and prosecution of all those involved.
They also demand the setting up of a UN-monitored Truth Commission to unravel the facts around the Dapchi event as well as the abduction of Schoolgirls in Chibok, Borno State in 2014.