Senate Confirms Ahmad, Adamu As CBN Deputy Governors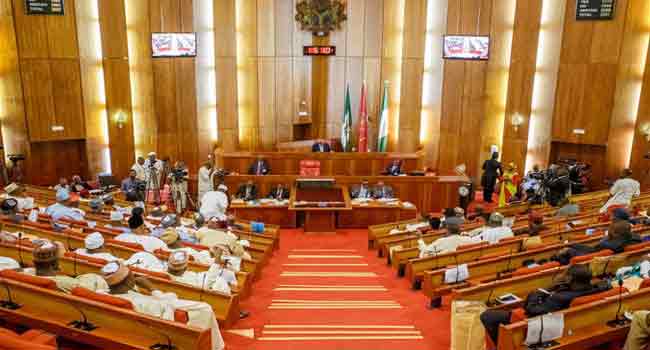 The Senate on Thursday confirmed the nomination of Aisha Ahmad and Edward Adamu for appointment as deputy governors of the Central Bank of Nigeria (CBN).
The lawmakers also confirmed the nomination of Professor Adeola Adenikinju, Dr Aliyu Sanusi and Dr Robert Asogwa, for appointment as members of the Monetary Policy Committee (MPC) of the CBN.
They, however, rejected the nomination of Dr Asheikh Maiduguas a member of the committee.
This followed the consideration of the reports of the Senate Committee on Banking, Insurance and Other Financial Institutions presented by Senator Rafiu Adebayo at the upper chamber of the National Assembly in Abuja.
Speaking during plenary, Senate President Bukola Saraki thanked the committee and the lawmakers for ensuring the success of the confirmation process.
"We promised the country last week that within a week we would carry out this confirmation and we have done this, I thank you all for your cooperation," he said.
The Senate President further congratulated President Muhammadu Buhari and others involved in the appointment process, as well as Mrs Ahmad for her nomination to such competitive role.
He also congratulated Mr Adamu, saying his elevation as CBN deputy governor would be a great encouragement to the staff of the bank and boost the morale within the institution.
According to Senator Saraki, the two CBN deputy governors are appointed at a time when the economy is a major issue as the nation seeks to continue with its economic growth and see the sustainability of the foreign exchange.
He then asked the new deputy governors to work with the CBN Governor, Mr Godwin Emefiele, to move Nigeria and its economy in the right direction.
The Senate President also urged them to continue to work closely with the National Assembly to update the lawmakers on the progress made by the apex bank.
Similarly, he wished the MPC members a fruitful and successful tenure, saying their appointments would allow the CBN to continue to play its role in providing stability in the nation's economy.
On his part, the Senate Leader, Ahmed Lawan, noted that the MPC is not fully constituted because of the rejected nominee.
He, however, said, "the executive might have to expedite action in sending a replacement."