PDP Accuses APC Of Interfering With Metuh's Trial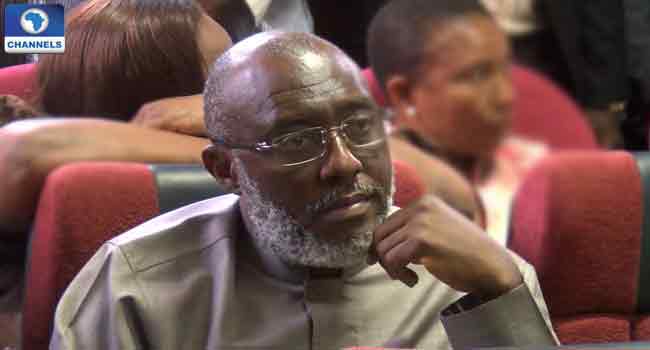 The Peoples Democratic Party (PDP) has accused the All Progressives Congress (APC) of interfering with the trial of its former National Publicity Secretary, Mr Olisa Metuh.
Mr Metuh is standing trial for alleged money laundering being part of the funds linked with former National Security Adviser, Colonel Sambo Dasuki (rtd).
READ ALSO: Court Adjourns Ruling On Metuh's Application For Permission To Travel
In a statement on Thursday by its National Publicity Secretary Kola Ologbondiyan, the PDP called on President Muhammadu Buhari to immediately call the APC and some of its members to order.
It also urged the Chief Justice of Nigeria (CJN), Justice Walter Onnoghen, to protect the institution of the judiciary and the courts from interferences in the conduct of cases involving its members and particularly, its former spokesman.
The party alleged that the connection between the timing of happenings in the court case and the intrusions of the APC in the entire matter has assumed a worrisome dimension.
Metuh Brought To Court On A Stretcher
It added that its members were concerned about Metuh's fate before the trial judge, claiming the judge had delivered judgments against the PDP in the past, which were eventually upturned after much damage had been done.
"The PDP finds it curious that interferences are manifesting in Metuh's case even after the court had adjourned indefinitely on his application to be allowed to travel to the UK for surgery. This court had twice rejected Chief Metuh's applications for medical leave at the initial stage of his ailment, but the condition of the former PDP spokesman has now degenerated.
"It is on record that people facing similar charges at the Federal High Court are granted leave to travel for ordinary medical check-ups and other sundry reasons, but Metuh has had his application for medical treatment deferred indefinitely and had to be brought to court for trial even on a hospital stretcher.
"The fact remains that if the court cannot grant Chief Metuh leave for medical treatment, more so, with the manifest interference of the APC, then there is absolutely no guarantee that he can get justice from the same court at the end of the day and we want the CJN to take copious note of this," the PDP statement read in part.
The party decried that no other application for medical leave was subjected to "a greater burden of proof" than the case of Metuh, accusing the APC of "obvious persecution".
It, therefore, urged the Chief Justice to rise in defence of the judiciary and ensure a fair trial of its former spokesperson.
The PDP also asked the CJN to take a closer look at the conduct of Metuh's case and take appropriate action to ensure that justice is seen to have been done at the end of the day.