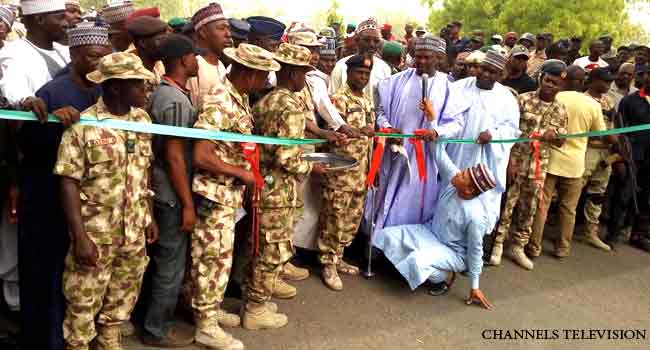 The Nigerian Military has reopened the Maiduguri-Bama-Banki Road, about four years after it was captured by Boko Haram terrorists.
The Deputy Governor of Borno State, Mr Usman Durkwa, cut the tape to reopen the road on Saturday.
He believes the development has proven the success in the collective fight against insurgency in the North East.
Durkwa, who praised the President for his relentless effort in ridding the country of terrorism, was also optimistic that the reopened road would enable the people to pick up the pieces of their past lives.
He said, "We thank President Muhammadu Buhari and the military leaders for standing by the people of Borno state. May God continue to assist us to see that we return Borno State to its former status as the home of peace."
The deputy governor further assured the security agencies that the state government would continue to provide them with all the necessary machinery to succeed until they get a lasting solution.
He added that the government would provide necessary support to ensure that all displaced persons from various communities return to their original homes.
The Theatre Commander of Operation Lafiya Dole, Major General Rogers Nicholas, revealed that Cameroonian troops were part of the successful clearance operations which resulted in the re-opening of the once dangerous road.
He was also hopeful that the reopening of the road would not only enhance the commencement of economic activities but also encourage insurgents to surrender.
The road leading to border town Banki was unceremoniously shut down in September 2014 when insurgents dislodged Bama and its environs.
The crisis had crippled the booming trans-border activities in Banki and Gwoza, one of the economic hubs in the state.
Bama LGA is one of the biggest city in the state with tertiary institutions and the closure of the Maiduguri-Bama-Banki Road has left more than 20,000 locals displaced and living in makeshift camps with many others living in the host community.
The reopening of the road for civilian is expected to see to the resumption of trade across borders for residents who suffered setbacks for years.
One of the residents, Mohammadu Auwal, told Channels Television in Hausa that peace has returned to the community.
He said: "There are people near the border like the Cameroonians; they will cross over and buy from us and since the border has been reopened, we'll continue our business like we used to do by God's grace."
While some residents are concerned about how safe the 75-kilometre road is, others noted that they are more interested to return to their ancestral homes.