Senate Begins Fresh Process Of Electoral Act Amendment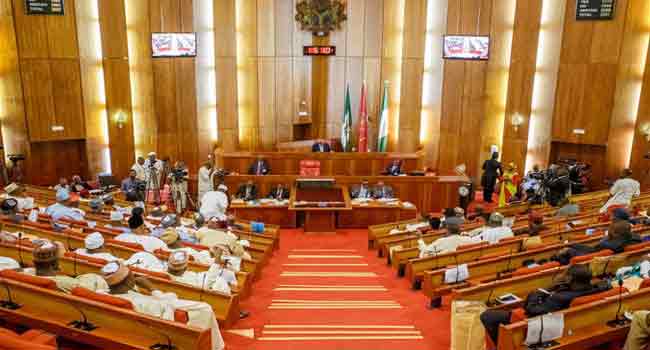 The Senate has said it will begin a fresh process of amending the 2010 Electoral Act.
The new bill will on Tuesday be presented on the floor of the Senate and has been listed on its Order Paper for First Reading.
However, it is not clear at this point what the specific areas for amendment are in this fresh exercise, or if the Senate is still holding firm to the proposed amendments in the ongoing exercise.
But following President Buhari's decision to decline assent on the amendment of the Electoral Act, lawmakers in both chambers are strategizing on how to override the President's veto.
The President had on March 13, 2018, withheld assent to the amendment of the 2010 Electoral Act.
He said that he is declining assent to the amendment of the Electoral Act because the amendment to the sequence of the election in section 25 of the Principal Act may infringe on the constitutionally guaranteed discretion of INEC to organise, undertake and supervise all elections provided in section 16(a) of the constitution.
He also stated that the amendment to section 138 of the Principal Act to delete two crucial grounds upon which an election may be challenged by candidates unduly limits the right of candidates to a free and fair electoral review process.
President Buhari further stated that the amendment to section 152 (325) of the Principal Act may raise constitutional issues over the competence of the National Assembly to legislate over local government elections.
"Pursuant to Section 58 (4) of Constitution of the Federal Republic of Nigeria 1999 (as amended), I hereby convey to the Senate, my decision on (3rd March 2018) to decline presidential assent to the Electoral (Amendment) Bill 2018 recently passed by the National Assembly.
But the leaders of the National Assembly on March 17, 2018, vowed to jointly give an appropriate response after President Muhammadu Buhari withheld his assent to the Electoral Act Amendment Bill.
Contrary to reports that both National Assembly leaders are divided over the President's position to the amended bill, Saraki and Dogara noted that they are working "in agreement on what to do".
Both leaders added that the move by the lawmakers to change the sequence in which elections are conducted was not personal but in the interest of the nation's democracy.
Presidential and National Assembly elections are always conducted (on the same day) before other polls, while the governorship and State Houses of Assembly elections follow.